Expert Negotiating Tactics Workshop with Don DeRosa on November 23, 2019
Posted on November 8, 2019 by
Sat, November 23rd at 9AM – Atlanta, GA
SOLD OUT! SOLD OUT! SOLD OUT!
Atlanta REIA Presents:
Expert Negotiating Tactics
The Ultimate 1 Day Workshop on How to Easily Negotiate with Sellers to Create Win-Win Situations!
"I like to think of sales as the ability to gracefully persuade, not manipulate, a person or persons into a win-win situation."" ~ Bo Bennett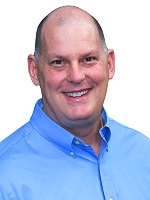 Was your stomach tied up in knots as you walked in to your first deal? Mine was! Have you done enough deals so you feel comfortable negotiating? Or does it still give you butterflies? How would you like some tips to make negotiations much easier? To get that bargain-basement price, and still meet your seller's needs? Then this upcoming Expert Negotiating Tactics Workshop on Saturday, November 23rd is for you!
There's no real mystery to negotiating. We do it every day, in every relationship. Your family negotiates every time you decide what to watch on TV. You negotiate with your spouse every time you figure out who is going to pick up the kids from school. You're already doing it you just don't realize it. But for some reason when people say the word "negotiation" people get nervous.
Well, for one thing, negotiation is a form of sales. In other words, buying is selling. Because when you make an offer on a house, you're hoping to sell your offer to the other side. And being a salesperson scares a lot of people.
If you are lacking this confidence as an investor then this might be the most important workshop you attend all year. In order to be an expert negotiator, you need to make sure you are:
Meeting the seller's needs
Building rapport with the seller
Believing in your offer
Providing the seller with an objective basis for your offer
Overcoming the seller's objections
Negotiating does not have to be something that makes you shudder. After this workshop, you will feel confident and have the knowledge and tools at your disposal to be able to walk into any negotiation feeling fully prepared to create a win-win deal.
At this workshop, you will learn about…
3 variables to every negotiation
How to recognize non-verbal clues and use them to your advantage
How to plan and gather information for successful negotiations
How to use state of the art tools to do all your negotiating for you
How to overcome all seller objections when buying a house
How to create win-win deals so that everyone leaves happy
And much, much more!
Don't miss this great opportunity to learn how to be an expert real estate deal negotiator!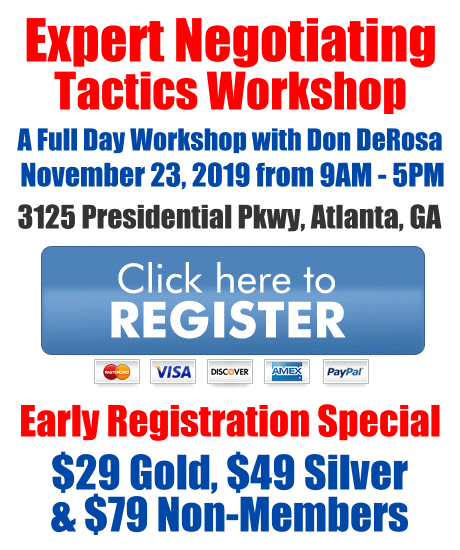 PLEASE NOTE: Location and schedule subject to change. Pricing is per person. No refunds 5 days prior to event. Price will increase after early registration special expires.