Deal Structuring Workshop with Larry Harbolt on June 15, 2019
Posted on May 30, 2019 by
Sat, June 15th in Atlanta, GA
Deal Structuring Workshop
Learn How to Make More Profit on Every Single Deal You Do!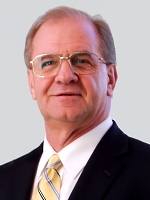 On Saturday, June 15th from 9AM to 5PM at the 3125 Presidential Pkwy, Atlanta, GA, our good friend Larry Harbolt will be sharing with us a full day of new and exciting ideas that will dramatically increase your profits on every deal simply by tweaking the way you structure your offers to sellers. Register Now!
Larry will show us how he uses the "4 Key Parts" every offer must contain. He will show us how using a combination of Time, Payment, Interest and Price can be manipulated to give a seller what they want and also get what you want for a win-win transaction. You will be amazed how easy it is to make profitable offers that others can't match because they don't know these advanced techniques.
Larry will also explain why paying interest always steals profits and monthly cash flow on every financed deal. Paying more interest than necessary is not a profitable strategy as everyone knows, and is why you end up paying thousands of dollars more for each property you buy. After you hear what Larry will be showing us on Saturday, you will forget thinking that the price is the most important part of getting your offers accepted! There really is a better way!
Here is a few words from Larry Harbolt with more specifics about what he will be teaching at this exciting all day event…
"Mark your calendar to be sure you will be able to join me Saturday, June 15th when I will be showing you why, whatever the current market is in your area will never be a factor in the way you buy real estate. You don't want to miss this!
At the workshop, I will show you the secrets used by seasoned and successful real estate investors everyday to create great deals most other investors can't do simply because they know a few basic ideas and strategies others don't know, regardless of the economy or the availability of properties in the Multiple Listing Service.
After Saturday, you will no longer be handicapped by Bank qualifications or Hard Money Lenders requirements whether you get the money you need to do your deals or not.
Without knowing these secrets, you will be at a distinct disadvantage. I will explain in detail…
Why Your Market Conditions and Economic Conditions Will No Longer Be a Factor In the Way You Do Your Real Estate Business?
What the Experienced and Seasoned Investors Know That You Don't Know.
How the Way You Structure Your Offers Will Have a Monumental Impact On Your Success Rate.
How Seasoned Investors Find Properties to Buy You Have No Idea Are Available.
The Secret of How to Structure Offers That Give the Sellers What They Want, Nobody But Me Is Teaching Today.
No More Worries About Why Your Competition Is Doing More Deals Than You Are.
Nobody In Your Marketplace Will Have a Clue What You Are Doing, or How You Are Doing Your Deals.
How to Do Deals Without Money or Credit Will Never Be a Problem Again.
How to Perfect Your Wholesale Business and Maximize Your Profits.
Details of How You Can Make Huge Profits Without Having Property Ownership.
I'll Also Answer Any Questions You Have About These Techniques.
These are such an important subjects for you to master. The information I will be presenting on Saturday is really simple to understand and easy to use. The best part is, much of this information isn't taught anywhere on any level. Because of this fact, if you are with us on Saturday, you will have a major advantage over all of your competition. Be sure to mark your calendar and join me on Saturday, June 15th. You will love the information you get and can put it to use on your very next deal!
So Register Now to learn ALL this money-making information for just $19 for Atlanta REIA Gold Members, $39 for Atlanta REIA Silver Members and $69 for Non-Members. Atlanta REIA Members can even bring a spouse, parent, child or partner who is also an Atlanta REIA Member at no additional charge! Register Now for this 2-For-1 Early Registration Member Special!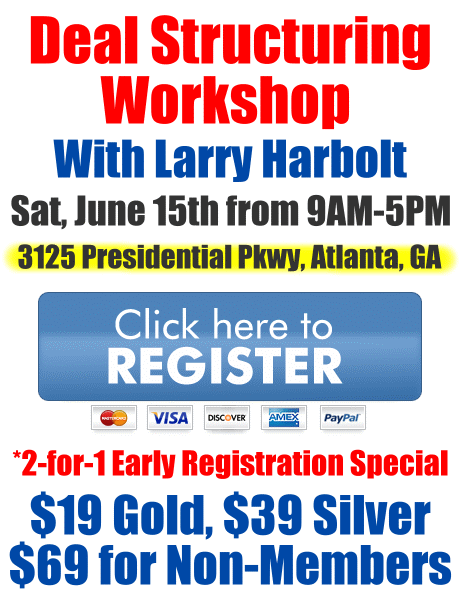 *PLEASE NOTE:  The 2-for-1 Early Registration Special is for Atlanta REIA Members only whose spouse, parent or child is also an Atlanta REIA Member. Tuition price will increase and will be per person after Early Registration Expires. Register now and save! Date, time and location are subject to change. You can join Atlanta REIA at membership.atlantareia.com.