Creative Deal Structuring Workshop with Larry Harbolt on January 9, 2016
Posted on December 14, 2015 by
Sat, January 9th at 9AM – Decatur, GA
Atlanta REIA Presents:
Creative Deal Structuring:
What to Say, How to Avoid Banks and Still Get PAID!!
A Full Day Workshop with Larry Harbolt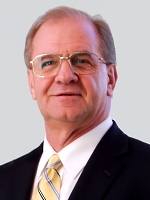 As the real estate market is starting to change for the better, qualifying for institutional loans are still very difficult for many real estate investors. Hard money loans are too expensive and should only be used for short term deals anyway. For those exact reasons, it is essential for real estate investors to learn how to keep their businesses thriving without having to rely on banks or other institutional lenders. On Saturday, January 9th, Larry Harbolt will be teaching a full day workshop that will equip you with the knowledge and tools to be able to do just that. The workshop will begin at 9AM at Keller Williams Metro Atlanta located at 315 W. Ponce De Leon Ave, Suite 100 in Decatur, GA
During this workshop, Larry will teach you magic words that create huge fortunes and how to use multiple strategies to catapult your real estate business to the next level in the shortest possible period of time. He will also be exposing new and different strategies that he rarely shares in detail which will immediately allow you to structure more and higher profit deals so you can make far more money than you are currently making. Come hear what Larry has to say and learn how to continuously do deals regardless or whether money is hard to get or not!
At this workshop, you will learn how to:
Overcome seller objections like a pro-negotiator.
Ask the right questions that will create Golden Deals.
Create extra profit out of thin air on most of your deals.
Build an empire of monthly cash flow and cure negative cash flow; these are the secrets only a handful of people know about.
Generate big profits from the "deal after the deal". All seller-financed deals have back end profit centers if structured properly, and Larry will show you how it will cost you a fortune if you don't know these investor secrets.
Learn to negotiate deals without ever talking to the sellers.
How to make thousands up front buying houses "subject to", sell them with owner financing fast, and earn monthly cash flow with little to no maintenance on your part, few tenant issues and fewer costly entanglements. If you want to increase your monthly cash flow, this could be an entire business platform worth your focus, and Larry will give you a plan to do it!
And much, much more!
Larry will also show you how to structure deals with zero interest, no payments, and even how to do deals if you are in bankruptcy. Larry has students who have bought over 20 seller financing deals in 2015 using his techniques and strategies. You aren't going to want to miss hearing what several of his students are currently doing to make extra profit on 5 to 15 extra deals each year making $3,000 to over $30,000 on each of those deals!
And then, if all of that wasn't enough, Larry is also going to teach you about:
The 7 Deadly Mistakes All Investors Make.
Think about your goals before making your offer.
Understand why any property is a good deal worth pursuing?
Think through the deal so you know you will make a sufficient profit before you do the deal!
Understand what the highest and best property use is that will maximize your profit.
Know how to quickly pre-screen which properties are the best candidates.
How to avoid violating the Dodd-Frank Act legally, morally and ethically.
Determine what the best buying strategy should be for every deal.
How to get into the mind of the seller — what do they want? Why do they want it, and the best way to give them what they want!
How to build instant rapport and be the savior to today's distressed sellers.
Saturday, January 9th will be your ticket to creating multiple profit checks regardless of your financial situation. After this workshop, you will know how to immediately structure deals that you never thought possible. Don't miss this great opportunity. Register now!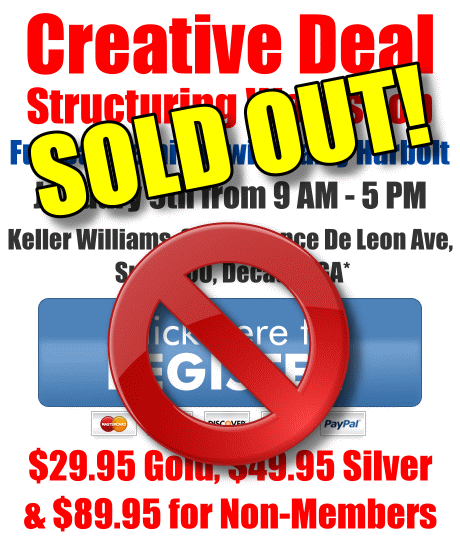 PLEASE NOTE: Atlanta REIA Gold & Silver Members can bring a spouse, adult child or parent at no extra charge. Non-Members who join Atlanta REIA between December 25th and January 8th can attend this full day workshop for FREE and bring a qualified guest such as a spouse, adult child or parent. Atlanta REIA Members who renew their membership between December 25th and January 8th for 1 additional year can attend for FREE as well. When joining or renewing your membership, please let us know that you want to attend this event at no additional charge. You can join Atlanta REIA at membership.atlantareia.com.