Creative Deal Structuring Workshop with Leslie Mathis on April 1, 2017
Posted on March 13, 2017 by
Saturday, April 1st @ 9AM in Atlanta, GA
Creative Deal Structuring
Saturday, April 1st from 9AM-5PM at
Register Now, We're Almost Out of Seats!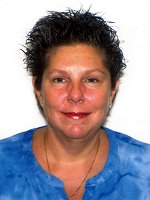 Join us at the Creative Deal Structuring Workshop on Saturday, April 1st from 9:00 AM to 5:00 PM at 3525 Piedmont Rd NE, Bldg 5, Ste 100, Atlanta, GA with Leslie Mathis where she will show you how to structure real estate transactions using little or none of your own cash and credit. When you find a seller with a real estate problem that you can't solve by buying for all cash at a discount, Creative Deal Structuring gives you many more tools in your toolbox for you to solve their problem… giving YOU more ways to PROFIT!
At the workshop, you will learn:
Different Deal Structures Defined And Explained
3 Ways You Can Make A Profit Using Creative
Deal Structures
Testing Your Sellers For Motivation And Flexibility
Collecting And Evaluating Your Numbers
Structuring Your Deals For Maximum Profit
Interactive Learning Gives You Best Environment
To Practice What You've Learned
Real-Life Examples You'll Be Amazed By!
Answer your questions and more!
Come spend the day with Leslie Mathis on Saturday, April 1st and learn creative ways to buy properties other than paying all cash. Register Now & Save!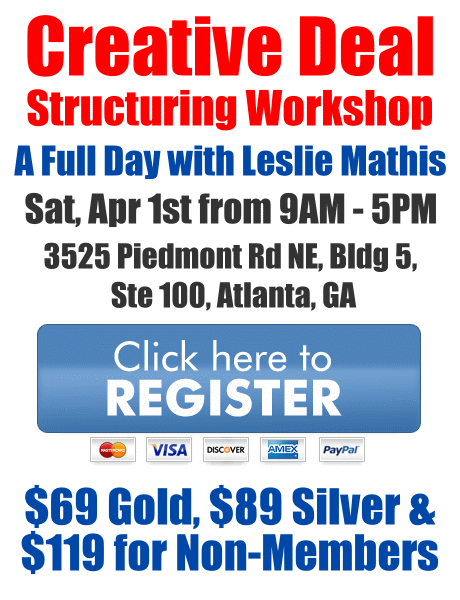 PLEASE NOTE: Early registration expires on Wednesday, March 29th at midnight. You can join Atlanta REIA at http://membership.atlantareia.com and save on tuition fees.