ACT / REACT Workshop with Jon Iannotti on Sat, April 11th
Posted on April 3, 2015 by
Sat, April 11th at 9AM @ Keller Williams, Sandy Springs, GA
The ACT / REACT Workshop
A Full Day Workshop with Jon Iannotti
Sat, April 11th, 9AM-5PM
Keller Williams
200 Glenridge Point Pkwy, Ste 100
Sandy Springs, GA
Join us and Jon Iannotti on Saturday, April 11th at 9:00 AM at Keller Williams located at 200 Glenridge Point Pkwy, Ste 100 in Sandy Springs to learn how CATS can teach you to structure profitable transactions with every lead that comes across your desk, especially the ones that most other investors would immediately toss aside. During this full day workshop, Jon Iannotti will expand on the concepts he was only briefly able to talk about Monday night.
Jon will teach you specifically how to…
Work with sellers to give them what they want and still profit
Structure win-win situations with over-leveraged properties
Turn a dead lead into a profitable deal
Make a minimum of $5,000 on each deal
Work with sellers who want all cash and full retail
Set your business on "Auto Pilot"
And much, much more…
Download Jon's REACT Property Data Sheet
, fill it out and bring as many completed lead sheets to class as you can and Jon will analyze your deals and call sellers in class and help put together a deal for YOU!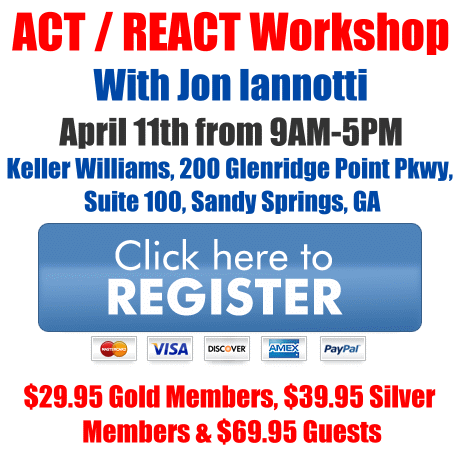 PLEASE NOTE: The 2 for 1 Early Registration Special is for Atlanta REIA Members and is limited to spouses, adult children and corporate partners. Early registration expires on Wednesday, April 8th at midnight. Non-Members who join Atlanta REIA between April 1st – 6th, 2015 can attend the workshop for FREE. Also, Atlanta REIA Members who renew their membership for an additional year between April April 1st – 6th, 2015 can attend the workshop for FREE as well. When joining Atlanta REIA or renewing your membership, please indicate that you want to attend the workshop at no charge. You can join Atlanta REIA at http://membership.atlantareia.com.
Whether your seller says "Yes" to terms or "No" to terms, you will be able to structure the deal to where you will be able to make money and your seller will be happy too. Jon and Stephanie Iannotti have taken the real estate market by storm. Through the ever-changing ups and downs, they have modified their techniques to meet the needs of the market and have continued to thrive and prosper. Jon and Stephanie have a passion for teaching and helping others get out of the rat race and achieve their personal and business goals. By implementing their CATS (Complete Agreeable Terms System), you will be able to achieve your goals much, much quicker.
Don't miss the opportunity to learn how to convert just about any lead into a profitable real estate transaction that you can continue to do over and over and over again!
Don't Forget to Download
Jon's REACT Property Data Sheet