A Special Message From Ron LeGrand About His Upcoming Fast Track To Wealth Seminar
Posted on February 18, 2014 by
From the desk of Ron LeGrand…
A Day With The Master
To Discuss America's Perfect
Home-Based Business
This Recession Won't Last, And When It Goes,
So Will The Best Chance In Your Lifetime For An Average Person To Get Rich
In Georgia Real Estate
If you're not making obscene amounts of money in real estate right now, you're missing the best opportunity of your lifetime to get rich. This recession has opened doors for both beginning and seasoned investors, the likes of which I haven't seen in my 30 years, and I hate to think most people will sleep right through it… and it does not require money, credit, experience or a license to get started.
Why Is This Important To You?
It's simple! If you don't take action now and get on the bandwagon, the greatest opportunity to create wealth on The Fast Track may pass you by before you even know what happened.

My name is Ron LeGrand and I've set aside a full day on Saturday, March 22nd from 8:30 am to 5:00 pm to share these secrets with you. You're invited to attend if you truly want to make this year your best year ever and let this recession make you rich. I call this all-day seminar The Fast Track To Wealth and the title says it all. Click here to Register Now!
But Who Am I, And
Why Should You Listen To Me?
I am the world's leading expert in quick turning residential real estate and Dustin invited me to spend the day sharing how I make millionaires.
Over the past 30 years, I have bought and sold over 2,500 single-family homes, and still do 6-12 every month now on auto pilot with less than 2 hours a week of my time.
I tell it like it is, and those who follow my system make a lot of money, some become millionaires. I show people the real business of buying and selling real estate with little or no money or credit and how to build a fortune quickly with my time-tested, proven and trademarked techniques.
Here's A List Of The Sessions Covered
At My All-Day Fast Track To Wealth Seminar
Session I.
Making Big Money With No Money Or Credit
Where the fastest and easiest money is in real estate and how you can get it with NO money, credit or risk on your part. You'll see how some of my clients and I make consistent paydays of $25,000 or more on each deal and how fast you can quickly duplicate it.
The 5 steps to success in real estate, or any business, and why one missed step will crush your empire.
Why the easiest money is made on houses in excellent condition in beautiful neighborhoods, contrary to conventional wisdom.
The whole focus is built around the one thing that can make you a millionaire but took so long to learn…
"The Less I Do, The More I Make."®
You'll see why it's not about how hard you work but what you work on. The country is full of hardworking, good people who are broke. Good intentions – lousy results.
The two fastest ways to pick up a big check ($10,000 or more) within 30 days after the workshop

. This has become common with my students. You'll see real examples.
How you can work yourself out of your job and into a real life within a few months. This isn't a joke!I've done it for a few thousand folks already, and don't see why you're any different. If you want your life back, come spend a day at this event.
How thousands of my students are getting

FREE

houses in gorgeous neighborhoods with one key phrase I've taught them, and how you can too. In fact, this will probably be your chosen method of buying houses when you are exposed to these secrets. No, I don't mean the houses are free and clear. They all come with a mortgage, but they don't require you to assume or qualify for anything, and most won't cost you a dime. Yes, it is true, legal, ethical, very real and actually very common.

This technique alone can and will

m

ake you wealthy if you use it

.
Incidentally, all techniques are taught using real case studies from real students on real houses, many in YOUR area. You'll see undisputable evidence that everything I've said is true.
More Cool Stuff You'll Learn…
How to buy a million dollars' worth of real estate without coming out of pocket with one red cent or ever applying for a loan of any kind.
How to build a passive income that comes in every month even if you don't feel like working, or, in fact, even if you are dead.

And I'm not talking about rental properties or being a landlord.

How you can own a beautiful home for your family within 45 days and never fill out an application, apply for a loan or put up a down payment.

Your credit is irrelevant because you won't be using it.
It's New! It's Hot! It's Very Profitable!
– ACTS –
Session II.
How To Make $5,000 Per House On Over-Leveraged Houses And Never Own Them And…
Do 4 A Month Part Time!
Now we have a simple program called ACTS that's almost instantly doubling the revenue of my students and my own house business. It's an amazing, instant exit for sellers who are over financed and upside down as well as free and clear houses and those with a mortgage with equity, and it's a huge public service for all those millions of buyers who can't qualify for a loan.
You will never own the home.
You have no cost.
You can do three or four a month and make a minimum of $5,000 on each, and my friend, that's not an exaggeration… if anything, an understatement. (We're doing 2 a week here in Jacksonville). Last week we collected a $32,000 and a $30,000 paycheck on two houses we'll never own…both within 30 days.
When you see ACTS, you won't sleep for three days when you see how quickly you can get a check with no loans, no banks, no repairs, no credit, no delays and very little work.
This Is All New, And You Better Learn It Before Your Competition Does!
Session III.
Getting Rich In Your IRA Tax Free
You'll see how to use real estate to grow your IRA to a MILLION DOLLARS in less than five years without you ever personally contributing another dime.
My friend, this very special session alone is worth many times your investment in time to get here. Every word I just said is absolutely true. Did you know your IRA can buy houses just like you can? Once you learn to do it without money, you simply make your IRA the buyer instead of you so all profits go into your IRA…TAX FREE. Your CPA and attorney can't teach you this because they don't know about it. Why? Because they don't understand real estate investing Ron's way. Trust me when I tell you it will be a long night after hearing about this. You won't sleep a wink when you hear how you can put your children and grandchildren through college – absolutely FREE.
This simple secret is making TAX-FREE millionaires out of my students all over America. Won't you join us?
Real estate combined with your IRA is the key that unlocks the vault. You see, it has nothing to do with your annual contribution or how much money is in your IRA. That's not the issue. YOU can open a self-directed IRA with the right company and $500, and grow it into a million if you never make another contribution. I know that's new to you, and you may have a lot of questions. That's why part of this live seminar is dedicated to it. When you're done, you'll know more than your CPA about growing wealthy through your IRA. I promise you it's all true.
Session IV.
Where To Find The Best Deals Even With Hot Competition
You'll get the best tool I've ever used to absolutely ensure you never hurt for deals, regardless of where you live, and it costs pennies to implement. You could be in the middle of a hundred competitors and use this technique to find deals they'd never find, even if they were using the same technique.
But Here's The Reality…
Session V.
Handling A Personal Financial Crisis
These are tough times that require out-of-the-box thinking, and sometimes that's not easy when your cash flow is suffering.
This session will cover what to do if you're over leveraged in real estate, creditors are knocking down your door and the joy of being alive has vanished…why life doesn't end when you lose your credit and what to do if it's getting you down and how to get it back quickly.
You'll take part in a frank discussion of your options and how to not only survive these times but come out on the other side of them stronger and able to handle anything thrown at you.
I'll Screen Your Deals And Show You Exactly What To Do When You Leave To Get A $5,000 – $10,000
Check From Leads You Bring To Class.
Click here to Download a FREE "Lead/Property Information Sheet" to collect information from FSBOs (For Sale By Owner) and bring to class. Call some sellers and complete the form as best you can. During the class, I'll show you exactly how to fill out the form, where to find the FSBOs and prepare you with the right prospects to turn into checks within 30 days.
We'll have a live session where I go through some of your leads and I'll examine all of them during lunch while you're eating and pick out the deals from the duds.
When's The Last Time You Attended A Seminar And Got Paid $5,000 For Going?
This exercise is priceless to you and will clearly demonstrate how easy it is to prescreen these leads and turn them into cash, so be sure to bring your leads!
Once I Show You What To Do Using Live Deals…
A Virtual Assistant Can Do It For You
After the Seminar…
And We'll Provide The VA!
My whole focus will be on running a very profitable house business with you doing as little work as possible and letting technology and VAs do the rest. That's the only way you'll ever join my growing list of 7 figure earners. Automate! Automate!
Here's What You'll Receive At The Event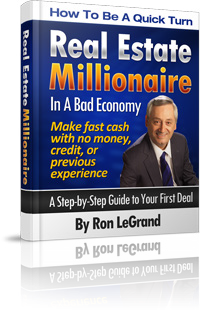 My new book "How To Be A Quick Turn Real Estate Millionaire In A Bad Economy". I'll Autograph it for you there.
More FREE Gifts
You'll also Get…
"How To Take Title And Protect Your Privacy" CD – We get a lot of questions about land trusts, what to do, what not to do, where do they work, why use them, etc. They're all answered in this CD in great detail.
Plus…
Over $5,000 In Prize Drawings
That's right, I'll give away over $5,000 in goodies in a random drawing.
OK Ron, How Much?
Thanks to Atlanta REIA, your cost is ridiculously low. If you join Atlanta REIA as a new member or renew your existing Atlanta REIA membership for another year, you and a qualified guest can attend for FREE. It doesn't get any better than that!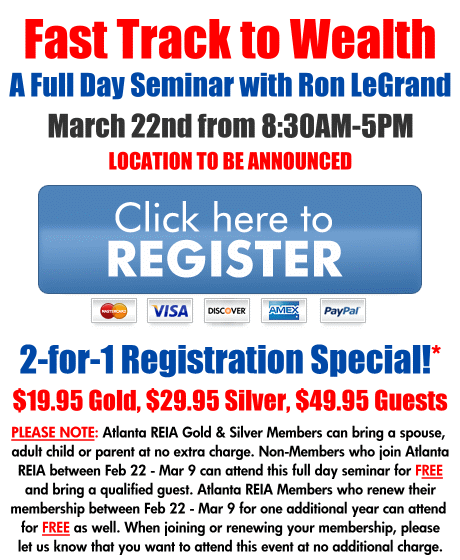 To Your Quantum Leap,
Ron LeGrand — Millionaire Maker
P.S. What is ACTS?
It's a new day and a new time. Real estate investing is a different game now and requires new techniques to stay in it. One such new technique combined with an old technique has changed our industry as we know it…and opened new doors for people to enter the business and start profiting quickly…And Never Buy A House.
No, it's not wholesaling nor anything else you know. It does involve you being the middle man, but not on bank-owned or all cash houses, nor does it involve Realtors®, private lenders, raising cash, qualifying buyers, cleaning credit, short sales or any other costly entanglement.
You're in and out in a few days with no closing costs to you.
You don't need the banks' permission, can't trigger the "due on sale" clause, and even attorneys will accept the technique…and it works best on beautiful houses in lovely neighborhoods from the median price on up to million dollar homes. All with no risk to you.
Now a new twist to an old technique has turned them into a whole new, sought-after business model.
Not only is it easy to quickly profit from these deals, you can do several a month and never buy a house, put up a dime or take risks and make $5,000 – $10,000 and a lot more on each deal. Our minimum is $10,000
The Technique Is Simple!
Find sellers who need to get out, some leveraged, some not, and create some easy terms to pass on to a non-qualified credit buyer. Usually it's a lease option to buy with rights to assign, but sometimes it can be owner financing.
Instead of buying or leasing yourself, you simply assign the contract with seller's consent and full approval of a new buyer and let them lease the house for years until they qualify for a loan.
Yes, it's legal, and no, you don't need a license if done correctly.
It even works well with sellers over-leveraged, but don't assume it's only for over-leveraged houses. Actually about 40% of the ACTS deals we do are free and clear. Yes, I know this will take some getting used to; and your questions are mounting, but they're answered at this seminar.
There are some tricks and traps, and it won't work on all prospects, but believe me, it will change your business. It certainly changed ours. About 80% of all the deals we do are ACTS.
Come see how it's done!
P.P.S. I'll also update you on the new Dodd-Frank law that took effect on January 10, 2014. This is a deadly law if you make the mistake of thinking it doesn't apply to you.