800 Pound Guerilla Marketing Workshop
Posted on April 15, 2013 by
Sat, April 20th @ 8:30 AM – Buford, GA
101 Plus Ways to Generate Motivated Buyer & Seller Leads Workshop
A Full Day Workshop with Dustin Griffin on April 20th
From 8:30AM – 5PM at 1960 Skylar Hill Dr, Buford, GA
This Event Sold Out. We are out of seats.
Please do not register.
Discover How to Generate All the Buyer & Seller Leads You Need to

EXPLODE

Your Real Estate Investing Profits &

DOMINATE

the Competition!
Over 101+ Proven Effective Lead Generation Methods REVEALED!
Find Out How to Create All the Leads You Can Handle With Little Effort & a Low Budget!
When it comes to making money as a real estate investor few things are as important as the ability to generate high-quality buyer and seller leads – and it turns out generating those leads is easy with a little effort and the right methods.
In this special one-of-a-kind workshop, respected real estate investor Dustin Griffin will show you those proven effective methods you can use for little to no cost to generate waves of valuable leads day after day and month after month to achieve your financial goals.
You'll learn:
Which traditional marketing methods really work and which are a complete waste of time and money!
How to generate all the motivated buyer and seller leads you need to run a successful home buying business without spending a fortune!
How to determine exactly how many seller leads you need to achieve your short term cash flow needs and meet your long term financial goals… and then go out and get them!
How to tap into the power of the Internet and social media to generate tons of new leads… plus, how to turn any website into a lead-generating machine!
The most affordable and most effective direct and mass marketing techniques to reach motivated sellers who need to sell and tenant/buyers who want to buy or rent, regardless of their credit!
How to triple your current seller response rate by using a proven 2-Step Marketing Approach that will educate your buyers and sellers about your services in a non-threatening manner!
How to use little known marketing secrets to flood

ANY

business with leads!
How to gain instant credibility and establish your company as trusted experts who can solve problems and help prospects buy, rent or sell their home quickly!
How to market to the widest possible audience of buyers and sellers even on a shoestring budget!
And much more…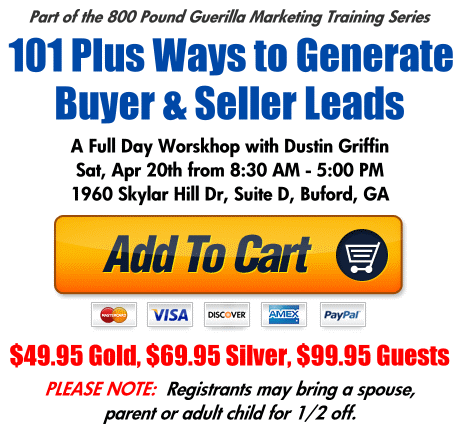 Please Note: This class is limited to 30 people due to size of meeting space. We are almost sold out. Registrants may bring a spouse, parent or adult child for 1/2 off.
If you're at all disappointed with the amount of money you've been earning in your investing business… or if you are fed up with all the hours you've been working trying to figure out how to get more leads and do more deals… then the 800 Pound Guerilla Marketing Workshop on "101 Plus Ways to Generate Motivated Buyer & Seller Leads" is definitely for you!
Don't miss this opportunity to learn everything you need to know to start generating an endless stream of exclusive real estate buyer and seller leads for little effort and little expense.
What Some of Our Attendees Said…
"I loved all the marketing examples. Dustin is the bomb! :)" ~ Ruth R.
"Excellent workshop with a lot (whole lot) of great content. Dustin put a lot of work into the presentation. Excellent coverage of all the items." ~ E. Ohuche
"Overall an excellent class with great information presented very well. All the information was very helpful. :)" ~ Sabrina C.
"Dustin is very knowledgeable and a great teacher. I learned a lot!!!" ~ R. Marshall
"The teacher Dustin Griffin is very thorough with his information. We all feel like we were fed with a firehose. :)" ~ J. Rexford
"Overall Dustin is a great real estate investors. Very knowledgeable and has a great command of marketing both offline and online. He is of great value to new and experienced investors because of the importance of cost effective marketing and internet marketing." ~ Emeka O.
"The mass amount of information gives me a lot of new ideas for marketing. I could not take notes fast enough! :) I highly recommend for anyone that is interested in real estate investing if you are brand new or a seasoned investor." ~ T. Young
"Dustin really got me motivated to go out and generate more leads. I took seven pages of notes in addition to all the handouts he gave us. I can't wait to implement some of the strategies to get the leads pouring in." ~ Stephen M.
"I really enjoyed teaching this class a lot. I love marketing and love sharing a the various marketing strategies, tips, tools and tricks that I and other successful investors have used to generate all the motivated buyer and seller leads we can handle. I really enjoyed all the class participation and all the examples they shared. Thank you so much for participating!" ~ D. Griffin