2 Day Rehabbing Boot Camp with Don DeRosa on July 25 & 26, 2015
Posted on July 1, 2015 by
Sat & Sun, July 25 & 26 @ 9AM @ Keller Williams – Decatur, GA
PLEASE NOTE REGARDING PARKING ON SATURDAY: Parking may be a problem on Saturday due to the Decatur Beach Party that is taking place that day. Here is what Maggie Groholski of Keller Williams says about the parking… "Here is the parking situation. We will have access to the parking garage. Everyone will need to come into Decatur from W Ponce de Leon Ave / Scott Blvd. Then make a left into the building's driveway. This is per the City of Decatur and building Management."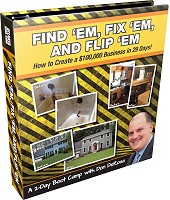 Are you ready to take advantage of the rising real estate market and get in on the red hot house flipping scene? Are you thinking about flipping but don't know how? Does the idea of renovating properties scare you to death? Don't know where to start? If the answer to any of these questions is yes then you absolutely need to attend Don's new two day renovation event.
Come see Don on July 25th and 26th where he will spend two full days teaching you how easy it actually is to Find 'Em, Fix 'Em, and Flip 'Em. You will spend two full days learning the art of flipping houses. Don will show you a Step-by-step process to evaluate, avoid rookie mistakes and build a highly profitable fix and flip business.
Day One:
How to put together a solid flipping strategy
The best methods for securing multiple types of funding
How to evaluate properties, work with contractors and manage renovations
How to Flip multiple houses at one time
How to crunch numbers and evaluate high profit margins
How to negotiate like a seasoned pro with Sellers, Lenders, Contractors and Buyers
How to handle Legal and Tax Regulations
How to choose the best marketing strategy that guarantees sales
And much more…
Day Two (Bus Trip):
Field trip to Home Depot
How to automate your renovation business using SKU based model
Compare prices and learn basic costs of materials that will be used in every job
What are the low, middle and high end products to use depending on your level of renovation
Visit 3-4 actual houses
First hand experience looking at real houses, using real numbers, and making real offers
Don will give you practical tips with real life examples, easy to use systems and killer paperwork so you can tap into this exciting and potentially unlimited source of income and financial freedom.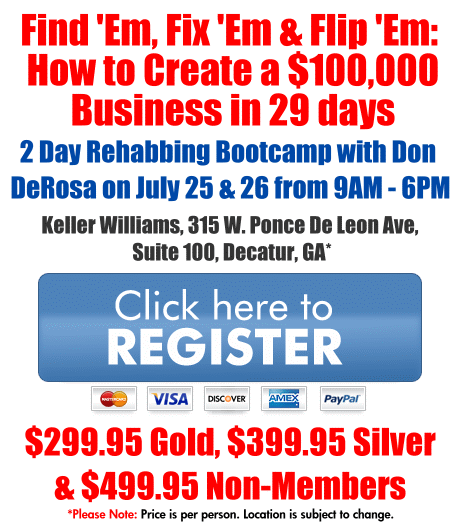 PLEASE NOTE: Pricing is per person. Location subject to change. No refunds 5 days prior to event. Early Registration Special Expires Wed, July 22 at Midnight. Class is limited to 45 people.