Training Webcast on Wholesaling Real Estate with Than Merrill & Jon Steingraber on November 3rd
Posted on October 24, 2011 by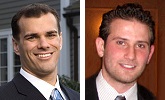 If you are interested in making quick money "Wholesaling" properties you have to join us on our next Training Opportunities Webcast on Thursday, November 3rd at 7 PM ET with Than Merrill & Jon Steingraber from A&E's "Flip this House" on "How to Make Money Wholesaling Real Estate – A No B.S. Discussion on What Current Opportunities are BEST in Today's Market."
Than and Jon wholesale a ton of houses each month and on the webinar they are going to show you exactly how they run their business as well as how you can get started making money wholesaling distressed properties right here in Atlanta. Register here… it is 100% worth your time.

Also, this is HUGE! On the webcast, Than & Jon are going to go through exactly how they generates all their seller and buyer leads for these wholesale deals. This is the key to the business and exactly what YOU need to know in order to be successful.
They will even show you how to make money from the seller and buyer leads you don't buy a house from or sell a house from. This is a really cutting edge technique you have to hear because it is a great way to expand your business even from the houses you don't buy!
In fact, it is producing huge sums of money for a lot of theirs students right now as well. Click here to Register now for FREE!.
More specifically this is what Than & Jon will be discussing:
How to get started wholesaling homes and run a successful wholesaling business
How to make $5,000 to $30,000+ per wholesale deal
Changes in the REO market you must be aware of if you want to be successful wholesaling bank owned properties
The top 5 best ways Than and Jon are currently finding deals at 40 – 65 cents on the dollar in today's market
How to build a solid buyers list of other investors in your area who will buy your wholesale deals
How to start setting your business up so it is automated so you can do multiple deals a month

We look forward to having you on the webinar!