What's Happening at Atlanta REIA – March 9, 2022
Posted on March 9, 2022 by
Happening at Atlanta REIA
Atlanta's HOTTEST LIVE, In Person
& Online REIA Club! See For Yourself…
UPCOMING EVENTS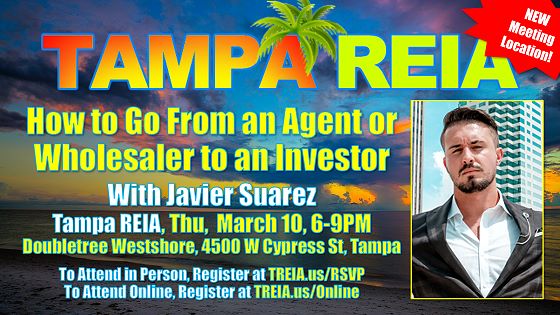 Atlanta REIA Members Can Attend at NO CHARGE Online or In Person
Thursday, March 10th, 6:30PM – 9PM (LIVE, IN PERSON & Online via Zoom Webinar): Tampa REIA Main Monthly Meeting & Vendor Tradeshow at the DoubleTree Hotel Tampa Airport in Westshore located at 4500 W Cypress St, Tampa, FL.

This month, our special guest speaker will be Javier Suarez who will be discussing "How to Go From an Agent or Wholesaler to Successful Investor."

At the age of 19, Javier began representing sellers and buyers in Washington DC as an Agent. Javier noticed the same buyers buying a lot of the same type of properties. Javier studied his buyers and why they were buying the properties they were buying. Javier found out they were making 1000x the amount he was making by just closing, renovating, and selling the same property.

Over the last 9 years, Javier has dedicated his mission to understanding and maximizing profit through acquisitions. His presentation at Tampa REIA will begin your journey on determining where and how to buy real estate that will change your life. By the age of 28, Javier has transacted well over $50 million in real estate.

Whether you're a new or seasoned investor, come join us at Tampa REIA to learn how to go from working hard as an agent or wholesaler to becoming a real investor in 2022 by investing in real estate and making massive passive income! RSVP Now, there are two ways to attend…

Monday, March 14th, 6-9PM (LIVE & IN PERSON IN ROSWELL!): Atlanta REIA Main Meeting & Vendor Tradeshow located at Doubletree Hotel, 1075 Holcomb Bridge Rd, Roswell, GA.

Atlanta REIA Members can attend at NO CHARGE. Non-Members can RSVP Online for $20 or pay $25 at the door. RSVP for Atlanta REIA at http://areia.us/rsvp.

This month at Atlanta REIA our speaker will be one a panel discussion with several of our members who are "newer" to real estate investing and who are doing very well in a relatively short period of time.

The Panel Discussion will consist of Alex Prince, Dawn & Scott Wood and Jeanette & Greg Davis and moderated by Don DeRosa.

Don't miss the opportunity to hear from some of successful "newer" real estate investors and the secrets of their success right in your own backyard. RSVP for Atlanta REIA Now at http://areia.us/rsvp.

Also, at the Meeting-before-the-Meeting at 6PM, Don DeRosa, will be giving you "Top 10 Mistakes New Investors Make in Today's Crazy Real Estate Market".

Here is a message from Don regarding of this month's BIG Meeting topic…

"If you are a new investor, a lot of times learning all this new stuff can make you can feel scared and anxious. You are constantly learning to "do this" and "do that." But wouldn't it be great if you had a checklist of things NOT to do?

Ever wish you knew what land mines to avoid in real estate to make your success faster and easier? Well guess what? I'm here to help you with that.

I've put together a list of my TOP 10 Mistakes almost ALL investors make in their first year. Not only am I identifying what they are, but I'm also going to show you how the either avoid them or fix them altogether.

At the meeting, we will discuss…

Top 10 Mistakes Investors make in their first year
How to identify these mistakes
How to avoid or fix these mistakes

With 2022, hopefully getting back to some normalcy, the economy will be thrusted back into reality, and with that, will come great opportunity for those who have the ability to recognize it. Come join me so we can put your investment business in overdrive. I look forward to seeing you at the meeting."

Atlanta REIA Business Members & Vendors can Register Here for a Vendor Table.
WEEKLY MEETINGS
EVERY THURSDAY at 1:30PM (LIVE & IN-PERSON in Sandy Springs): Haves & Wants Meeting is LIVE and IN PERSON with Joe Thompson at Hudson Grille in Sandy Springs. Bring Your Deals, Business Cards, Flyers & Come Network and Make Deals Happen with us once again!
OUR REAL ESTATE INVESTOR FACEBOOK GROUPS