What's Happening at Atlanta REIA – June 6, 2022
Posted on June 6, 2022 by
Happening at Atlanta REIA
Atlanta's HOTTEST LIVE, In Person
& Online REIA Club! See For Yourself…
UPCOMING EVENTS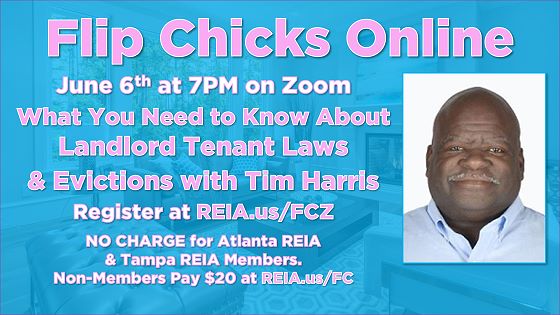 Monday, June 6th @ 7PM – 9PM  (ONLINE WEBINAR): The Real FLIP CHICKS is now meeting ONLINE ONLY on the 1st Monday of each month at 7PM on Zoom Webinar.

This month's guest speaker is Tim Harris, an Attorney, Realtor & Landlord, who works with EquityPro Tampa Bay. Tim will be talking about "What You Need to Know About Tenant Landlord Laws & Evictions". Register for the Webinar Now!

Tim's presentation will cover basic landlord tenant law and the steps required to complete a basic eviction in Florida. The Florida statutes outline the requirements for a landlord's behavior towards his tenants and towards the maintenance of his property. The law further defines the rights that a tenant has and the procedures for dealing with a breach of either the tenants or landlords rights.

Tim will be covering…

Leases
Tenant's duties
Landlord's duties
Retaliation
Deposits
Eviction steps and defenses
Answers to your questions and more

Join us on the Flips Chicks Webinar to learn more about Landlord Tenant Laws and Evictions and how they could effect your buy and hold investment properties. Register Now!

Flip Chicks Online Webinar Registration Instructions For Members & Guests

Flip Chicks is hosted by Amanda Sutherlin, Kelly Duncan, Emilia St Jean & Dustin Griffin.

Be sure to join our Flip Chicks Facebook Group for Atlanta and/or Tampa.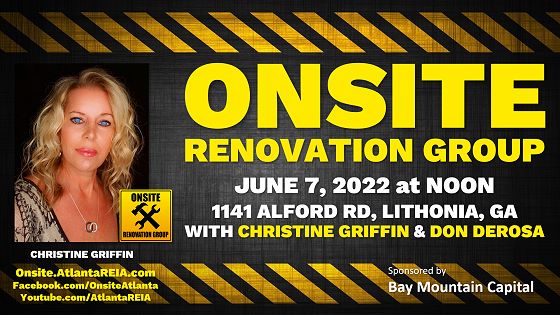 Tuesday, June 7th @ NOON (LIVE in Lithonia): Onsite Renovation Group with Don DeRosa & Chrissy Griffin at one of Chrissy's latest rehab projects, which is a burnout, located at 1141 Alford Rd, Lithonia, GA 30058. Come see the project before the rehab begins!

Atlanta REIA Members can attend at no charge. Non-Members for $15. RSVP at http://rsvponsite.atlantareia.com.

The Atlanta REIA Onsite Renovation Group is sponsored by Chip Cagle of Bay Mountain Capital. Thanks Chip!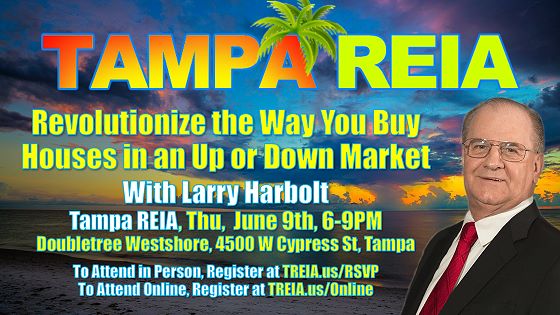 TAMPA REIA LIVE
Meeting & Vendor Tradeshow
Thu, June 9th, 6PM-9PM
Revolutionize the Way You Buy Houses In An Up or Down Market
with

Larry Harbolt
Atlanta REIA Members Can Attend at No Charge Online
The Market Is Starting to Turn, the Time Is Now to Change Your Business Model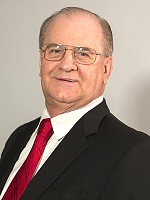 My name is Larry Harbolt. I am a Creative Deal Structuring and Seller Financing Expert who teaches investors how to buy real estate without ever stepping into a bank again! I will be speaking at Tampa REIA on Thursday, June 9th at the DoubleTree Hotel Tampa Airport in Westshore located at 4500 W Cypress St, Tampa, FL.
While the real estate market has continually been wild and crazy, and on fire in most areas of the country. Areas where houses only stay on the market for a few days and many times sell for more than the properties are worth. This is a great market for sellers, but it is far less good for investors who are trying to buy property and plan to sell or rent the property they are lucky enough to buy. Because of interest rates starting to increase some markets are starting to slow down considerably.
Even with interest rates starting to rise, investors are still finding it difficult to find property to buy. Regardless of all the high prices we all have an uncertain future because nobody knows what the future holds. Personally, I believe the current market conditions will soon be slowing. I'm glad the time I call "The Greater Fool Period" will be ending soon. The Greater Fool Period is when investors believe the price of houses continues to increase and this period will keep going forever. Only a fool would believe the upswing market will continue, as many investors found out in 2009 and 2010 who ended up losing all the properties they paid far too much for, and some ended up bankrupt.
This is exactly why I believe this is the perfect time to explain what I believe is a solution how the average investor can start doing more profitable deals, without banks or hard money lenders, while the untrained investor will continually struggle to find and fund their deals regardless of if the market goes up or goes down. I will be sharing time tested techniques I have used over the past forty plus years, in up and down markets. I will share with you techniques that can revolutionize the way you buy houses, but only if you take the effort to prepare yourselves to see the real estate business in a new light.
Here Is What I Will Be Talking About…
How to find numerous off market properties not listed in the Multiple Listing Service.
How to quickly determine the highest and best use of every property.
How to figure the numbers of each deal quickly and easily without a spreadsheet so you never overpay.
How to generate extra profit from simple improvements buyers or renters won't see in other properties.
Every mandatory question you must ask every seller, not their real estate agent.
What to say to overcome almost any seller objection you may hear.
How to successfully negotiate with any seller.
The million-dollar negotiating technique that gets sellers to see what you are offering is better for them than getting all cash for property and how they will end up making far more money with you.
Different strategies how to give sellers what it is they want, even more, while you get what it is you want.
I will talk about how to use more than twenty-five different ways to structure offers, other than all cash or bank financing other investors don't know about.
Answers to your questions and so much more!
I Will Share As Much of This As Time Allows on Thursday June 9th
I will be showing you how you can turn your lack luster real estate business into an extra-ordinary and profitable business with only a few minor basic changes you will need to make. Join me Thursday, June 9th, at Tampa REIA! RSVP Now below…
Larry Harbolt is one of a small handful of real estate educators who teach time-tested creative seller financing techniques and strategies and is a popular and sought-after national speaker who is the nation's leading creative Seller Financing expert who teaches strategies with a nuts and bolts teaching style that has changed the lives of hundreds of real estate investors nationwide.
Larry teaches a mostly unknown niche method of buying real estate used by very few investors today. Larry has help hundreds of investors realize financial freedom using little or no money and without the need of good credit. Larry teaches how investors can easily double or triple their current income regardless of existing market conditions. Larry teaches age-old, time-tested buying strategies that work in every market and economy wherever investors are buying houses.
Larry has just what all serious investors need to be able to buy real estate with little or no competition. Larry shares how to create deals where other investors don't see any opportunity. This has made Larry one of the most sought-after consultants and mentors for real estate investors today.
WEEKLY MEETINGS
EVERY THURSDAY at 1:30PM (LIVE & IN-PERSON in Sandy Springs): Haves & Wants Meeting is LIVE and IN PERSON with Joe Thompson at Hudson Grille in Sandy Springs. Bring Your Deals, Business Cards, Flyers & Come Network and Make Deals Happen with us once again!
OUR REAL ESTATE INVESTOR FACEBOOK GROUPS