Attention Vendors: 2nd Annual Atlanta REIA Vendor Trade Show is July 2, 2012
Posted on June 18, 2012 by
Dear Atlanta REIA Business Members:
On July 2nd, Atlanta REIA will be celebrating our 2 Year Anniversary with our 2nd Annual Vendor Trade Show. We have rented all 3 ballrooms at the Atlanta Perimeter Hotel & Suites for the event. This event will be similar to the mini trade show we do each month, it will just be BIGGER and we will have a lot more time dedicated to networking with vendors. More details are coming soon.
We are offering vendor tables this week only for $40 for Gold Business Members, $50 for Silver Business Members and $75 for Guests. Next week these prices will go up by $20 or more depending on your membership type. Please reserve a table ASAP to not only get the best rate, but to get listed in all of our forthcoming emails for the event.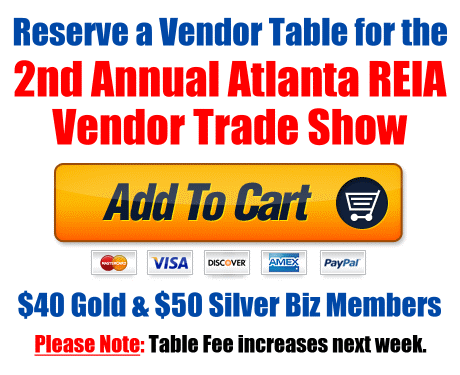 A Few Vendors Who've Already RSVP'd
The Small Business Advisor
Networth Realty
Scott Bowen's Specialized Services
Atlanta Carpet Services
Fuller Center for Housing of Greater Atlanta
C. Brown Property Management & Investments LLC
Tentative Agenda for the Trade Show
4:00 pm: Vendor & Event Setup
5:00 pm: Doors Open, Trade Show Begins, Networking
6:00 pm: Haves & Wants Speed Marketing Session
7:00 pm: Q & A Sessions with Local Experts
9:00 pm: Late Nite Networking with Participating Vendors & Attendees
As always, your ongoing support and participation in Atlanta REIA is GREATLY APPRECIATED! I hope to see you on July 2nd if not sooner!