The Onsite Renovation Group Meets Tuesday, June 18th at NOON
Posted on June 4, 2013 by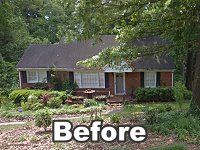 On Tuesday, June 18th at Noon, the Onsite Renovation Group meets at 1010 Brookdale Dr, East Point, GA 30344. Come out to Onsite Renovation Group as we explore the changing market of East Point, GA. Forces have been changing the face of the Atlanta Real Estate Market and East Point has not escaped the tidal wave of rising sales. Join us and see what a sub-$200k resale and a moderate renovation looks like in the new market.
This is a project that was sourced to the investor by New Western Acquisitions and is being renovated by Craftbuilt. We should be deep into framing and rough mechanical installations at the time of the meeting.
The Atlanta REIA Onsite Renovation Group (ORG), led by Aaron McGinnis of Craftbuilt Properties, is an new educational and networking group that focuses on the acquisition, renovation and retail resale (fix and flip) of single family residential homes inside the I-285 perimeter and the in-town neighborhoods. The purpose of this group is to allow both new and experienced rehabbers and investors to meet, network and share knowledge and experience with "hands on" access to real property. The Onsite Renovation Group meets on the 3rd Tuesday of each month at NOON at an active renovation site, build site or rental property which will vary from month to month. There is currently no charge to attend these meeting.