Onsite Renovation Group Meets on June 17th at Noon
Posted on June 16, 2014 by
Tue, June 17th @ Noon in Atlanta, GA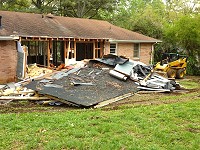 This month, on Tuesday, June 17th at NOON, the Onsite group will return to the same brick ranch located at 2726 Eastfield Rd in Smyrna, GA. Two months ago, in April, the demolition phase of the project had just begun. Right after the meeting that day, we tore into the old addition with a bobcat! Click here to see the pictures of that devastation. http://tinyurl.com/ln5rgrb.
The project is now completed. The new addition is a spectacular master suite. Overall, the project is a total renovation: new roof, sheetrock, plumbing, wiring, fixtures, counters, cabinets, paint inside and out. You name it and we are did it here! Join us next Tuesday at noon, to see the finished product, including the beautiful slate patio outside of the kitchen.
The Onsite Renovation Group, led by Aaron McGinnis of Craftbuilt Properties, is an new educational and networking group that focuses on the acquisition, renovation and retail resale (fix and flip) of single family residential homes inside the I-285 perimeter and the in-town neighborhoods. The purpose of this group is to allow both new and experienced rehabbers and investors to meet, network and share knowledge and experience with "hands on" access to real property. The Onsite Renovation Group meets on the 3rd Tuesday of each month at NOON at an active renovation site, build site or rental property which will vary from month to month. There is currently no charge to attend these meeting.