Onsite Renovation Group Meets at Tunde's Rehab in Atlanta
Posted on November 8, 2019 by
Tue, November 19th @ NOON in Atlanta, GA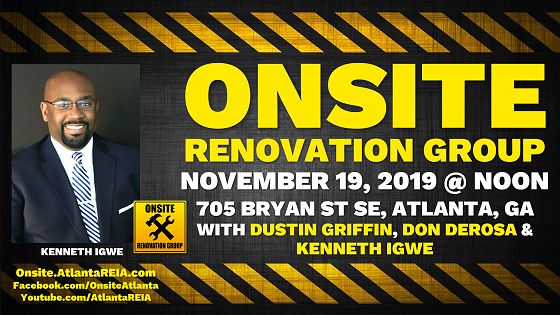 Hands-On Learning "Onsite" at Real
Atlanta Area Renovation Projects
Please join us on Tuesday, November 19th, 2019 at NOON for the Atlanta REIA Onsite Renovation Group (ORG) to learn all about finding, funding, fixing and flipping houses for big profits right here in the metro Atlanta area. This month's rehab project is located at 705 Bryan St SE in Atlanta, GA with Kenneth Igwe & Nicole Hines of Baker Collins, a long time sponsor of the Onsite Renovation Group.
Babatunde (Tunde) Adefioye, who is a London based investor, purchased this property in June of this year and funded it with Kenny of Baker Collins. Come join Dustin, Don, Ken, Nicloe and Tunde and learn why Atlanta Real Estate is catching the eyes and pocketbooks of foreign investors.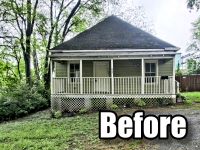 This property has 3 large bedrooms, 2 bathrooms and approximately 1,512 sqft with an additional sitting room, dining room, separate laundry room, eat-in kitchen and a back deck. This home is a Historic Grant Park bungalow, close to the Beltline, that was built in 1920 and was purchased for for $270,000 on June 24th, 2019. It has a great covered porch, structurally sound with a great foundation. It could have been a light fixer upper or a major remodel.
The investor decided to do a major rehab. He is completely gutting the property and will create an open floor plan. He is not adding any square footage, but is re-purposing the existing floor plan. He will also add a large rear deck to take advantage of the large backyard. He will add high end finishes to the property as well.
RSVP NOW and come join us at the Onsite Renovation Group!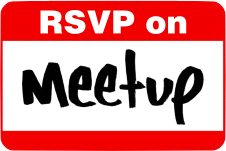 The Atlanta REIA Onsite Renovation Group (ORG) is an educational and networking group led by Dustin Griffin and Don DeRosa that focuses on the acquisition, renovation and retail resale (fix and flip) of single family residential homes. The purpose of the group is to allow both new and experienced rehabbers and investors to meet, network and share knowledge and experience with "hands on" access to real property.
Wholesalers, bring your deals! We could be your next buyer!

Lenders, bring your money! We could be your next borrower!

Agents, Contractors and Other Real Estate Pros, come join us! We could be your next client!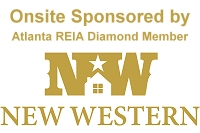 The Onsite Renovation Group meets TWICE A MONTH on the 1st and 2nd Tuesday each month at NOON at an active renovation site, build site or rental property which will vary from month to month. As always, there is no charge for Atlanta REIA members to attend. Guests & Non-Members can RSVP Online for Only $15 or pay $20 at the door. Come join us and RSVP Now!
The Onsite Renovation Group is sponsored by New Western Acquisitions & Baker Collins.