Onsite Renovation Group Meets at Frank Iglesias's New Construction Project on December 4, 2018
Posted on November 23, 2018 by
December 4, 2018 Onsite Replay
Tue, December 4th @ NOON in Atlanta, GA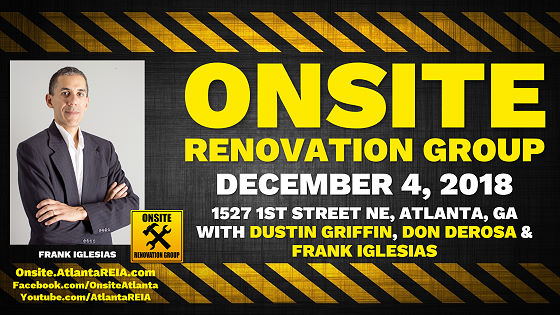 Hands-On Learning "Onsite" at Real
Atlanta Area Renovation Projects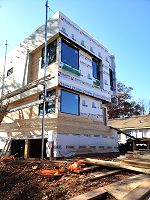 Please join us on Tuesday, December 4th at NOON for the Atlanta REIA Onsite Renovation Group (ORG) to learn all about finding, funding, fixing and flipping houses for big profits right here in the metro Atlanta area.
This month's meeting will be held at Frank Iglesias's latest New Construction project at 1527 1st Street NE, Atlanta, GA. If you are currently rehabbing and thinking about getting into new construction, come pick Frank's brain and discuss his transition from rehabbing to new construction.
The construction of this expansive modern home is in progress. Sleek and simplistic shapes allow this design to shine as it all comes together. Mixed with urban outdoor living spaces, this spacious home will be sure to please upon its completion! Join us and come check out Frank's progress so far!
PLEASE NOTE: Frank reported that finding this address on your GPS may or may not work since it is a new address. If you can't find 1527 1st St NE, Atlanta, GA on your map app, put in the house across the street wich is 1526 1st St NE which will get you there.

The Atlanta REIA Onsite Renovation Group (ORG) is an educational and networking group led by Dustin Griffin and Don DeRosa that focuses on the acquisition, renovation and retail resale (fix and flip) of single family residential homes. The purpose of the group is to allow both new and experienced rehabbers and investors to meet, network and share knowledge and experience with "hands on" access to real property.
Wholesalers, bring your deals! We could be your next buyer!

Lenders, bring your money! We could be your next borrower!

Agents, Contractors and Other Real Estate Pros, come join us! We could be your next client!
The Onsite Renovation Group meets TWICE A MONTH on the 1st and 3rd Tuesday each month at NOON at an active renovation site, build site or rental property which will vary from month to month. As always, there is no charge for Atlanta REIA members to attend. Guests & Non-Members can RSVP Online for Only $15 or pay $20 at the door. Come join us and RSVP Now!