Public Record Case Studies for Large Profits with Dave Dey
Posted on April 27, 2020 by
Thu, April 30th @ 7PM – ONLINE WEBINAR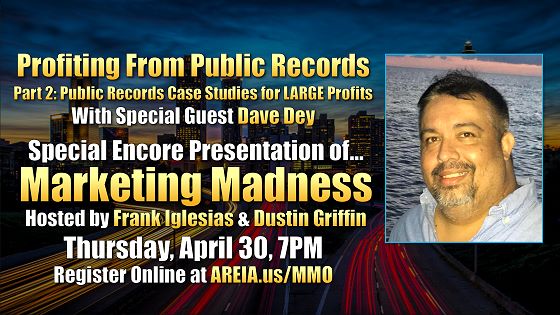 Profiting From Public Records
Part 2 Encore Presentation
Public Record Case Studies for Large Profits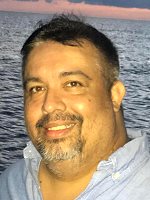 Join us at the Marketing Madness Event on Thursday, April 30th at 7PM ET ONLINE via Zoom Webinar with Special Guest, Dave Dey, who will be doing an follow presentation to the one he did last week on "Profiting from Public Records".
Think about this for a moment… Imagine spending ZERO DOLLARS marketing for deals and getting an endless supply of potentially highly profitable leads.
David Dey be back with us for an Encore Presentation of Marketing Madness and will be showing us how to do very profitable deals with ZERO in marketing.
Here are some of the case studies he will share:
How we bought a house in the Tampabay area for $1K and sold it for $224K.
How we bought a 32 unit complex for $800K and by just doing some simple paperwork, sold it for $1.6M.
How we bought a whole condo complex $200K, and by one single loophole, was able to flip it for nearly $550K and then sell it again for another $100K profit.
Bought a mega mansion for under $50 per sqft.
Dave will also answer your questions about this topic and these deals!
All this sound crazy, huh? These are the kind of deals you can find in public records with the right skills every single day. Join us Thursday at the Marketing Madness Encore Meeting to learn more. Be there! Register for the Webinar NOW!
After 20 plus years in the business and after being a part of over 2000 deals, you would think Dave Dey has seen it all. He has done single family, multi family, commercial, industrial and even development.
Some of the deals you will hear will definitely blow you away. His entire business is based through public records and outbound cold calling.
This Marketing Madness Encore Webinar will be a real game changer for your real estate investing business. Come learn how to use public records as a permanent resource to find leads and get more deals. Register for the Webinar NOW & DON'T MISS THIS EVENT!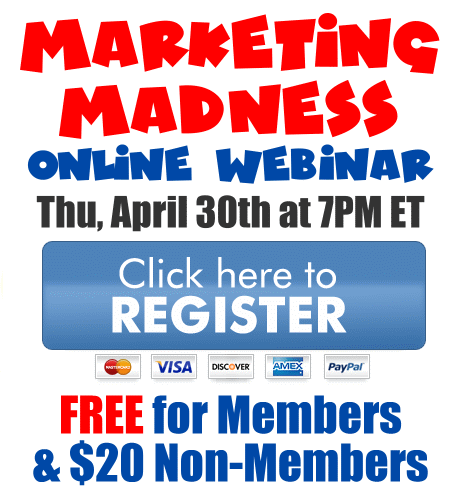 Marketing Madness is hosted by Dustin Griffin & Frank Iglesias who will be bringing in local and national real estate experts and marketers each month to teach investors how to consistently market for deals in order to survive and thrive in our ever changing economy and real estate market. The entire purpose of the group is to teach investors how to be Marketers, aka "Lead Generating Machines", so they can have an unlimited source of leads and potential income.
Atlanta REIA Members can currently Register for the Webinar at No Charge and not-yet-members can Register for the Webinar for $20.