Learn About Direct Mail Marketing Success at Marketing Madness
Posted on June 15, 2020 by
Thu, June 25th @ 7PM – ONLINE WEBINAR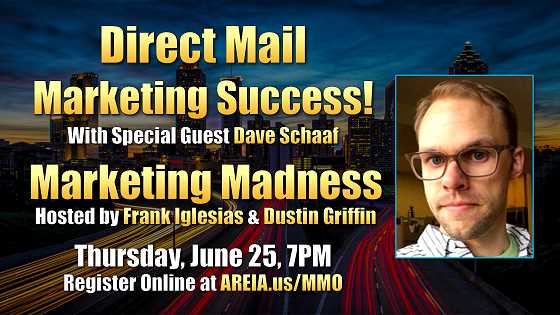 Direct Mail
Marketing Success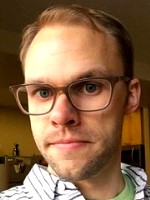 Join us at the Marketing Madness Event on Thursday, June 25th at 7PM ET ONLINE via Zoom Webinar with Dave Schaaf who will be discussing your "Direct Mail Marketing Success!"
Dave Schaaf is the CEO of Yellow Letters Complete, a direct mail marketing company that specializes in personalized, handwritten mail for real estate.
Yellow Letters Complete has been offering "white-gloved service" to each and every client for over 10 years. YLC creates affordable, effective campaigns and can handle each and every step: from the mailing list, message, mail piece, and more.
Join us on the Marketing Madness Webinar where Dave will be doing an introduction to direct mail marketing for real estate investors. He will cover everything you need to know to get started with direct mail and offer more advanced tips for investors who are already familiar with direct marketing.
Determining which type of marketing is appropriate for your goals
How to develop a mailing list based on your strategic approach
Structuring an effective and clear message to spark calls from motivated sellers
Choosing an appropriate mail piece to deliver your message
Following up with your leads over time to maximize response
Answers to your questions and more!
Because direct mail can be expensive, too many investors 'try it' once or twice only to be disappointed with the results.  The need for a planned approach is key to making direct mail work for you.  Come learn how with Dave. Register for the Webinar NOW & DON'T MISS THIS EVENT!
Atlanta REIA, Tampa REIA, Chattanooga REIA & Savannah REIA Members can currently Register for the Webinar at No Charge and not-yet-members can Register for the Webinar for $20.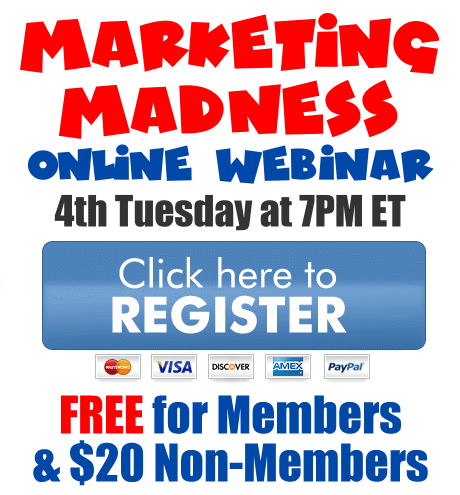 Marketing Madness is hosted by Dustin Griffin & Frank Iglesias who will be bringing in local and national real estate experts and marketers each month to teach investors how to consistently market for deals in order to survive and thrive in our ever changing economy and real estate market. The entire purpose of the group is to teach investors how to be Marketers, aka "Lead Generating Machines", so they can have an unlimited source of leads and potential income.