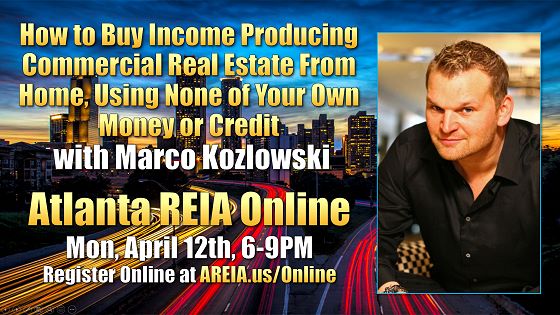 At this month's Atlanta REIA Online Webinar on Monday, April 12th from 6PM – 9PM, Marco Kozlowski will be our special guest speaker where he will teach you "How to Buy Income Producing Commercial Real Estate From Home, Using None of Your Own Cash or Cred!"
Check out this short video from Marco…
How many units (apartments, houses, mobile homes, office suites, etc.) do you need to retire from your J.O.B. and live your dreams?
Here's some quick math…
Each unit = At least $200 / month 💰
5 units = $1,000 / month 💰💰
25 units = 45,000 / month 💰💰💰
50 units = 410,000 / month 💰💰💰💰
The kicker? Marco and his students buy every single property using NONE of their own cash or cred.
There are massive deals all across the U.S. And Yes, you can buy these deals from the comfort of your own home. Join Marco on the Atlanta REIA Webinar and learn how.
No need to travel — and you definitely shouldn't buy just because it's near where you live unless you prefer terrible to mediocre returns.
Join us on the webinar to see how you can:
Find deals at 30% off or more
Access billions of dollars available from vetted "asset based lenders"
Pull out 3k on your first deal at closing plus get cashflow for life
These are just a few of the gems you will learn from Marco, so Register to Attend Now and join us Online on Monday, April 12th from 6 to 9PM to learn "How to Buy Cash Flowing Commercial Properties From The Comfort of Your Home, Using NONE of Your Own Money or Cred". See you there!
*Please Note: Meeting agenda is subject to change.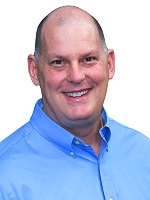 Join Don DeRosa every month at 6PM SHARP at our Meeting-Before-the-Meeting that we like to call the High Tech Home Buying Creative Deal Structuring Subgroup  that meets one hour BEFORE the Atlanta REIA Main Monthly Event.
Here is a message from Don regarding of this month's Meeting Before the Meeting topic…
"If you are a new investor, a lot of times learning all this new stuff can make you can feel scared and anxious. You are constantly learning to "do this" and "do that." But wouldn't it be great if you had a checklist of things NOT to do?
Ever wish you knew what land mines to avoid in real estate to make your success faster and easier? Well guess what? I'm here to help you with that.
I've put together a list of my TOP 10 Mistakes almost ALL investors make in their first year. Not only am I identifying what they are, but I'm also going to show you how the either avoid them or fix them altogether.
Join me on Monday April 12th at 6PM Online where I'll show you these colossal mistakes and how to handle them.
We will discuss…
Top 10 Mistakes Investors make in their first year
How to identify these mistakes
How to avoid or fix them
With 2021, hopefully getting back to some normalcy, the economy will be thrusted back into reality, and with that, will come great opportunity for those who have the ability to recognize it. Come join me so we can put your investment business in overdrive. I look forward to seeing you on the webinar."

Join us at the Meeting-Before-the-Meeting each month where Don will teach you about different real estate investing purchase and sale strategies to put more money in your pocket as well as state-of-the-art tools and techniques you'll use to evaluate deals and figure out how to make them work. You'll learn to work less and earn more so you can spend more time where you want, when you want and with whom you want.