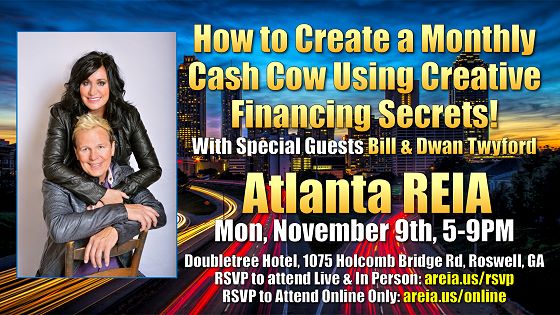 RSVP on Facebook or RSVP on Meetup
Atlanta REIA Members Can Attend for no charge.
Guests Can RSVP Online Now for $20 or Pay $25 at the Door.
The Atlanta REIA Main Meeting & Vendor Tradeshow is BACK LIVE & IN PERSON with special guest speakers, Bill & Dwan Twyford at the Doubletree Roswell located at 1075 Holcomb Bridge Rd, Roswell, GA. RSVP NOW!
If you recall, Bill and Dwan were our last speakers we had back in March as the Covid lockdown hit us all about 8 months ago. Now that things are starting to open back up, we've asked Bill & Dwan to come back and pick up where they left off and help our members keep moving forward in their real estate investing business.
The Twyfords will be discussing "How to Create a Monthly Cash Cow Using Creative Financing Secrets That Have Been Hidden Since the 1800's!" RSVP NOW and come join us LIVE & IN PERSON (or Online) once more to learn how to invest like a Rockefeller regardless of who wins the election and how long Covid lingers.
How many people do you know that lost it all in the crash of 2008?
How many of you or someone you know may be on the verge of losing it ALL right now because of COVID?
What secrets are seasoned investors using right now to make more money than they have ever made before?
Do you know that the greatest real estate investing opportunity is RIGHT HERE in front of you?
Do you realize that millionaires are being made in droves right now in real estate and other essential businesses?
What are the TOP THREE super stealth investing strategies that you need to implement right now?
The Twyfords have dug out a strategy used as far back as the 1800's by the Rockefeller family, which works better now that it did way back then.
RSVP for Atlanta REIA Now and don't miss Bill Twyford, and his wife, Dwan Bent-Twyford, at the first LIVE meeting we've had since March. Since COVID has had us locked down for so long, the Twyfords are jumping through the roof to share their 30 years of experience with you!
At this meeting Bill & Dwan will share as much of the following information with you as possible in an hour and a half:
How Michael made $50,000 on a CASH COW DEAL and how you can too
How building a monthly Cash COW is the key to surviving COVID, the future economy and coming out on top!
Why banks are begging investors to do short sales
The safest way to find foreclosure treasures today
Why knowing your numbers changes everything
The #1 reason most investors fail
What is happening in the COVID real estate market
Why you need a Business Plan to succeed
Why setting a schedule is the missing link to your success
The MAGIC words to say to get your deals closed
The #1 Exit Strategy during COVID
Why you need long-term rentals
Why quick flips have never been easier
How to close your deals using the proper documents
Protecting your assets
The best way to structure deals today
The exacts steps to build your real estate empire
Working the right zip codes
Answers to your questions…
RSVP NOW and join Dwan & Bill and Atlanta REIA and let them show you how to create a duplicatable, 6 Figure Real Estate Investing Business over the next year. We look forward to seeing you again in person!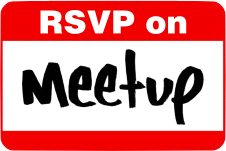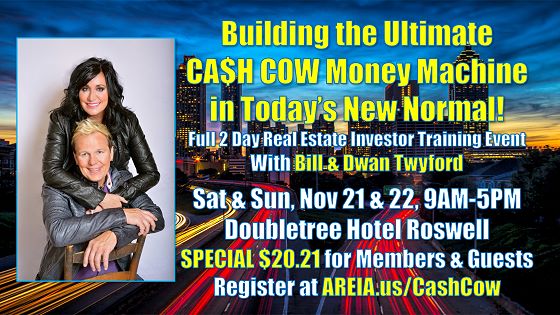 Please be aware that whatever Bill & Dwan are not able to cover in an hour and a half at Atlanta REIA, they will be back LIVE & IN PERSON for a 2 Day "Building the Ultimate CA$H COW Money Machine in Today's New Normal" on Saturday & Sunday, November 21st and 22nd from 9AM to 5PM at the Doubletree Roswell located at 1075 Holcomb Bridge Rd, Roswell, GA.
This 2 Day Training Event is ONLY $20.21 for Members & Guests! $20.21, get it? 2021 is the future! Register Now at http://AREIA.us/CashCow!
*Please Note: Meeting agenda is subject to change.
As always, Atlanta REIA Members can attend our Main Meeting event at no charge and Non-Members can Register Online for $20 or pay $25 at the door. Be sure to bring your business cards and flyers and join us for an evening of real estate deals, vendors, networking, education and fun on Monday, November 9th! See you there!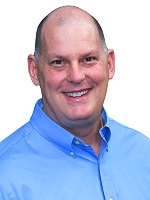 Join Don DeRosa every month at 5PM SHARP at our Meeting-Before-the-Meeting that we like to call the High Tech Home Buying Creative Deal Structuring Subgroup one hour BEFORE the Atlanta REIA Main Monthly Event.
This month, Don will be discussing "Must Have Apps & Tech for High Tech Real Estate Investors!"
Each month, Don will teach you about different real estate investing purchase and sale strategies to put more money in your pocket as as well as state-of-the-art tools and techniques you'll use to evaluate deals and figure out how to make them work. You'll learn to work less and earn more so you can spend more time where you want, when you want and with whom you want.

At 5:00 PM in the Main Lobby, we have a Vendor Trade Show that lasts throughout the meeting where you can come out and meet many of our participating Business Members and Vendor Guests who help sponsor our meeting.
Vendor tables are limited, so any vendors wanting to reserve a table for the meeting can RSVP for a Vendor Table here. Vendor tables are reserved and setup on a first-come, first-serve basis.

Starting at 6:20 PM, Dustin Griffin kicks off the Atlanta REIA Main Monthly Event with updates and announcements. Dustin covers what's happening at Atlanta REIA in the upcoming weeks and months such as upcoming workshops, webcasts, special events, members benefits and much more!

At approximately 6:40 PM, Joe Thompson will be hosting the Haves & Wants Speed Marketing Session which gives our members the opportunity to quickly market deals they HAVE and to find deals they WANT. We also give our business members the opportunity to get up and say a few words about their businesses. Members who want to participate in the Haves & Wants Marketing Session must bring your flyers and get to the meeting early to get on Joe's list of participants.
After the conclusion of the Atlanta REIA Main Meeting, we will be reconvening at 9:30 PM at a local pub for the Late Night Networking and the "Meeting-After-The-Meeting"! There is no charge for Atlanta REIA Members or guests to attend Late Night Networking, so bring a friend and head on down to Late Night Networking and have a cold brew with us! Just be sure you order food and beverages from the restaurant and please tip their wait staff generously.