Let's Make a Deal Over Lunch on June 7, 2017
Posted on June 5, 2017 by
Wed, June 7th @ 1PM in Sandy Springs, GA
Bring Your Deals, Property Flyers, Biz Cards, Contracts &
Let's Make a Deal!
with

Don DeRosa

,

Barry Beers

&

Guest Panelists

on June 7th @ 1PM at Hudson Grille in Sandy Springs, GA
No Charge to Attend for Members or Guests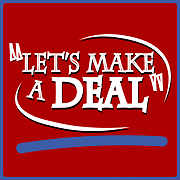 The Let's Make A Deal (LMAD) group is back with an ALL NEW format that is all about making deals happen!  Let's Make a Deal is subgroup of the Atlanta REIA that will meet on the 1st & 3rd Wednesday at 1:00PM and the 2nd & 4th Wednesday at 6:30PM at the Hudson Grille located at 6317 Roswell Rd NE, Sandy Springs, GA (map). This group is all about making deals happen at the meeting which means Buying, Selling and Trading Wholesale Deals and Creative Real Estate Deals before, during and after the meeting!


Atlanta REIA Members Please RSVP on Meetup.com
Each month we will have a 3-4 person panel who will quickly pre-screen your deals and decide if they want to buy them from you on the spot. If someone on the panel wants your deal, you can have it under contract before you leave the meeting. If everyone on the panel passes on your deal, you can make it available to the entire audience. If we don't have time to present your deal to the panel and the audience, after the meeting is over there will be plenty of time to network with other buyers and sellers and share your deals.
Your Property Flyers – In order to analyze your deals quickly, please put as much the following information on your Property Flyers as possible:
High, Average and Low After Repair Value (ARV)
Asking Price
How Much is Owed on the Property?
Amount of Monthly Mortgage Payments on the Property and the Interest Rate
If Behind on Payments, How Much?
Repairs Needed and Estimated Cost of Repairs
Annual Taxes
Annual Insurance Amount
Property Details such as Bedrooms, Baths, Square Feet, Year Built, Construction etc
Seller Situation and Reason for Selling
Photos of Property
Here is our schedule which is subject to change from time to time, especially around the holidays. Be sure to check our calendar for the most update dates and times.
If you are a new or experienced investor looking looking to buy or sell houses, this group is for YOU! Be sure to bring your deals, property flyers, business cards, contracts and Let's Make a Deal!
You can also join our Let's Make a Deal Facebook Group and post your deals here: