Learn the The Safest Way to Sell with Owner Financing and be Dodd-Frank Compliant at Atlanta REIA North Meeting
Posted on August 18, 2014 by
Wed, Aug 20th @ 6:30 PM in Buford, GA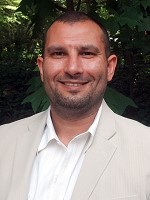 We are pleased to announce that Rick Girgis, a licensed Mortgage Loan Originator and funding manager, will be the presenter at the Atlanta REIA North Meeting on Wednesday, August 20th 6:30PM at 1960 Skylar Hill Dr, Suite D, Buford, Georgia in North Gwinnett County just a few miles from the Mall of Georgia. There is no charge to attend this meeting for Atlanta REIA members and the cost is $5.00 at the door for non-members. Rick is going to address real estate investor's concerns about staying in compliance with the Dodd-Frank Act when it comes to providing their owner-occupant buyers with owner financed loans.
Rick says… "I have been a Principle licensed Mortgage professional since 1997 and currently hold the title of Funding Manager for Good Friend Mortgage, Inc. As funding manager I prepare our closing documents, in compliance with all rules, laws, state specific regulations and produce a report illustrating compliance by an impartial 3rd party system and verified by myself a licensed seasoned professional. I am the principal consultant to the board of directors and liaison to FHA, HUD, Georgia and Florida banking regulatory departments."
"With owner financing investors have several risks since they are essentially acting as the bank in the transaction. These risks include: (1) the risk of default and borrower bankruptcy resulting in a squatter situation, (2) reclaiming a damaged property, and (3) legal liability and civil tort cases from not using a licensed MLO during the application process or complying with current regulations. Investors operating under licensing exemptions (almost all investors who offer owner financing) are being held to the same standards as licensed lending institutions and must calculate and meet numerous requirements, most importantly 'ability to repay'."
"We use cutting edge software such as "Doc Magic and Ecompass"- an Ellie Mae operating and compliance system, from which we produce an impartial third party report illustrating that the lender or 'individual' operating under the exemption has done their due diligence and complied with licensing requirements during the application process."
At the meeting, Rick will share:
A brief summary of the industry changes, and a recap of where we are now.
Risk #1– Default – how to protect yourself
Risk #2 – Property Damages – and how to protect yourself
Risk #3 – Legal Liability – and how to protect yourself
The consulting process
The application process
The closing process
Current legal regulations and Dodd/Frank Compliance – question and answers with legal council who will be present.
And much more!
Rick concludes "Utilizing our consulting, application processing, and closing documents preparation system is inexpensive and convenient way to offset the risk of owner financing in this overly regulated and litigious arena."
To learn more, come out and join us on Wednesday, August 20th you will hear the unabridged, safest way to sell a property with owner financing.

Late Nite Networking: After the conclusion of the Atlanta REIA North Meeting (after 9:30 PM), we will be reconvening at the Mall of Georgia located at 3250 Woodward Crossing Blvd in Buford, GA for the "Meeting after the Meeting". We may arrive late if the Atlanta REIA Meeting runs late. So please come eat, drink, network and have fun with us as hang out late into the night!