Learn the Latest Sexy Rehab Design Trends at Flip Chicks on February 7, 2020
Posted on January 30, 2020 by
Friday, February 7th @ 6:30 PM – Atlanta, GA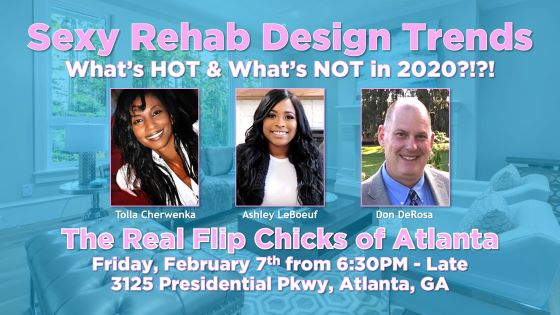 Sexy Rehab Design Trends 
What's Hot & What's Not in 2020?!?
with the

Tolla Cherwenka

,

Ashley LeBoeuf


&

Don DeRosa
Join us at the BRAND NEW Flip Chicks of Atlanta Meeting on Friday, February 7th at 6:30PM at   3125 Presidential Pkwy, Atlanta, GA (Temporary location while CRC is under construction). Flip Chicks meets on the 1st Friday of each month thereafter at 6:30PM.
This month's meeting will be a Panel Discussion on "Sexy Rehab Design Trends". We're gonna talk about what's HOT and what's NOT for 2020 with some wonderful, well-informed industry pros when it comes to New Construction design, Remodeling and Full Renovations. We will discuss the latest trends such as paint color hues, smart home technology and appliances, steam showers, dirt resistant finishes, what software to use to design home layouts, mixed metals, staging styles and much more.
RSVP Now and join us on Friday, February 7th with with our experts Tolla Cherwenka, Ashley LeBoeuf and Don DeRosa, and come learn tips and tricks that will give your designs that "Wow Factor" so you can sell your homes quickly in 2020.
The Designer & Rehabber Panel
| | | |
| --- | --- | --- |
| | | |
| Tolla Cherwenka | Ashley LeBoeuf | Don DeRosa |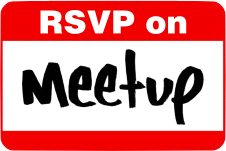 PLEASE NOTE: Atlanta REIA Member can currently attend the Flip Chicks Event at no charge and Non-Members can RSVP Online for $20 or pay $25 at the door. No exceptions. See information on parking below.
The Real Flips Chicks of Atlanta is a new group of like-minded, entrepreneurial women striving to achieve financial freedom through real estate investing, who come together to support and empower each other. Flip Chicks is led by Christine Griffin and Maria Rosenswike and hosted by Dustin Griffin.
This group is for women who wholesale houses, fix and flip homes and/or buy and hold rentals or vacation properties.
Whether you have been investing in real estate for years or are just getting started, consider joining our Facebook group at http://FlipChicksAtlanta.com and sharing your knowledge and experience with others.
The purpose of our group is to build a strong community of successful Flip Chicks through networking, education, support and encouragement.
You can participate by getting involved, asking lots of questions, sharing your knowledge and resources, sharing your latest flips, sharing lessons learned (good or bad) and encouraging others.
Men who wish to support and empower our Flip Chicks are welcome to join and participate in our group as well.