Flip Chicks Meets on December 6, 2019 on Working with Contractors
Posted on November 22, 2019 by
Friday, December 6th @ 6:30 PM – CRC, Roswell, GA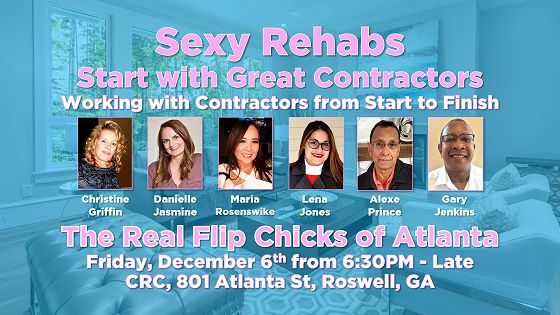 Sexy Rehabs Start with Great Contractors
Working with Contractors from Start to Finish
with

Christine Griffin

,

Maria Rosenswike

,

Danielle Jasmine

,

Lena Jones

,

Alexe Prince

&

Gary Jenkins
Join us at the BRAND NEW Flip Chicks of Atlanta Meeting on Friday, December 6th at 6:30PM at the Collective Rise Campus (CRS) located at 801 Atlanta St, Roswell, GA.. Flip Chicks meets on the 1st Friday of each month thereafter at 6:30PM.
This month's meeting will be a Panel Discussion on "Working with Contractors When Rehabbing from Start to Finish" with the Real Flip Chick's Christine Griffin, Danielle Jasmine & Maria Rosenswike who will be joined by Alex Prince and Gary Jenkins.
We will discuss finding contractors, hiring good contractors, when to fire them, how to handle disputes, how to avoid being taken advantage of and much more! We also discuss future topics you'd like to learn more about at Flip Chicks.
The Rehabber & Contractor Panel
Christine
Griffin
Danielle
Jasmine
Maria
Rosenswike
Lena
Jones
Alexe
Prince
Gary
Jenkins
Christine Griffin – Rehabber, Wholesaler, Investor & Coach
Danielle Jasmine – General Contractor, Rehabber, Investor
Maria Rosenswike – Rehabber, Wholesaler, Short-Term Rentals, Staging
Lena Jones – Rehabber, Wholesaler, Investor & Coach
Alexe Prince – General Contractor, Home Inspector, Rehabber, Investor
Gary Jenkins – General Contractor, Builder, Developer, Home Inspector, Investor
Before and after the Flip Chicks Event, there will be appetizers, beverages, networking and vendors. After the event there will be more networking, music and, for those that wish to participate, we will go out and dine at a local restaurant in Historic Roswell for more Late Night Networking and fun! RSVP NOW!
PLEASE NOTE: Atlanta REIA Member can currently attend the Flip Chicks Event at no charge and Non-Members can RSVP Online for $20 or pay $25 at the door. No exceptions. See information on parking below.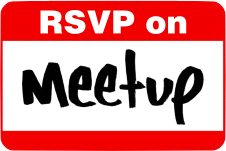 The Real Flips Chicks of Atlanta is a new group of like-minded, entrepreneurial women striving to achieve financial freedom through real estate investing, who come together to support and empower each other.
This group is for women who wholesale houses, fix and flip homes and/or buy and hold rentals or vacation properties.
Whether you have been investing in real estate for years or are just getting started, consider joining our Facebook group at http://FlipChicksAtlanta.com and sharing your knowledge and experience with others.
The purpose of our group is to build a strong community of successful Flip Chicks through networking, education, support and encouragement.
You can participate by getting involved, asking lots of questions, sharing your knowledge and resources, sharing your latest flips, sharing lessons learned (good or bad) and encouraging others.
Men who wish to support and empower our Flip Chicks are welcome to join and participate in our group as well.
Event Parking – Parking on-site at the CRC is limited to the front and rear of the building. Suggested overflow parking is available directly across the street at 1) Roswell Presbyterian Church located at 755 Mimosa Blvd, 2) next door to the right at Wender & Roberts Pharmacy, 3) Sherwin Williams at 825 Atlanta St, or 4) Green Basements & Remodeling at 836 Atlanta St, or 5) anywhere along Roswell free street parking such as Oak St. Do NOT park at the CVS next door to the CRC since they may tow.