Bill and Kim Cook Speaking at Atlanta REIA West on March 28, 2011
Posted on March 27, 2011 by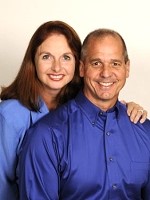 I don't know if you've noticed or not yet, but Bill Cook, real estate expert and leader of the North GaREIA, has been allowing us to publish his weekly articles on AtlantaREIA.com.  Bill writes on a wide variety of topics such as finding motivated sellers, buying properties at auction, lowering your property taxes, and more… Click here for a Full List of Bill's Articles.
Not only is Bill buying and selling foreclosures, writing articles and running his REIA group, but he and Kim will be speaking at our Atlanta REIA West Meeting on Monday, March 28, 2011, from 6:30 to 9 PM at the Cherokee Cattle Company at 2710 Canton Road, Marietta, GA (map). Bill and Kim will be speaking about…
How to Make Money at Foreclosure Auctions!
These days, with so many BIG-PROFIT deals popping up at each month's foreclosure auction, lots of real estate investors – both new and experienced alike – are asking how to successfully buy at the foreclosure auction. Now is your chance to learn from a couple who buys at the courthouse steps every month!
Bill and Kim are going to answer questions such as:
How does the foreclosure process work in Georgia?
How do you make sense out of the foreclosure ads in the legal section of the newspaper?
What do you do when you're out looking at foreclosure property? What do you say to a homeowner?
How do you prepare for the monthly foreclosure auction?
How do you finance your foreclosure deals?
What are the biggest mistakes made – by both new and experienced investors – at the foreclosure auction?
If you are the high bidder, what do you do next?
Bill and Kim will show you some of their foreclosure deals that went right AND went wrong! We're talking pictures, documents and numbers…you know, real-world stuff! And, Bill and Kim will do their best to answer all of your questions at the meeting. We look forward to seeing you there!