Learn the #1 Skill Needed To Have More Success in Life at BIG with Malhar Bhagat
Posted on January 16, 2020 by
Mon, Jan 20th @ 6:30 PM – Hudson Grille, Sandy Springs, GA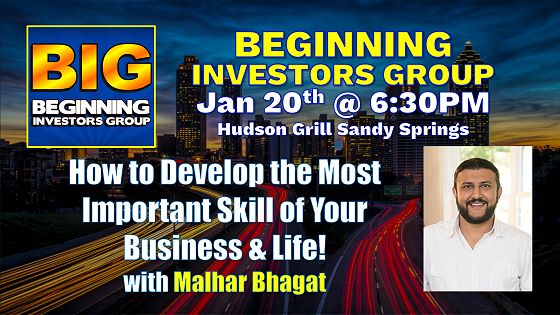 The Number 1 Skill Needed To Have More Success in Business & Life!
with

Malhar Bhagat
Join us at the Beginning Investors Group (BIG) on Monday, January 20th at 6:30PM at the Hudson Grille in Sandy Springs located at 6317 Roswell Rd in Sandy Springs with our special guest speaker, Malhar Bhagat, who will be discussing "The Number 1 Skill Needed To Have More Success in Business & Life!"
Real estate is full of technical information. What's the best investing strategy? How do you structure a profitable deal? Where do you raise capital? How do you hire the best contractors? How do you negotiate a win-win deal to ensure everyone is happy?
But, at the end of the day, there is one skill that is fundamental to master to ensure that all of the rest of these questions are answered with ease. It is the one skill that will get you more deals this year, and create better relationships with buyers, sellers, lenders and contractors.
In fact, Warren Buffet was asked what is one piece of advice he would give to budding graduates and his answer was "The one easy way to become worth 50 percent more than you are now — at least — is to hone your _____________."
Are you curious what this one skill is? Do you want to learn how to hone it better? Then, you don't want to miss this event! Make sure to attend B.I.G. on January 20, 2020 at Hudson Grille in Sandy Springs!
During the Presentation, Malhar will discuss…
The top presuppositions of NLP
How to align your Goal Setting Mind with the Goal Getting Mind
How to communicate with others using their communication style
Behaviors drive Results, but what Drives Behavior?
BONUS: A free webinar to continue developing your skills!
DO NOT MISS THIS EVENT! It could be the difference between getting your first or next deal and having a banner year or another year of average results… YOUR CHOICE! Make the right one… RSVP Now and Join us at at the Beginning Investors Group (BIG)!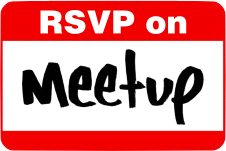 The Beginning Investors Group (BIG) is an educational and networking group for new investors who are just getting started in real estate investing as well as "new again" real estate investors who've taken a few years off and are looking to get back in the game.

BIG is hosted by Dustin Griffin who will be bringing in local and national real estate experts to teach new investors how to survive and thrive in our ever changing economy and real estate market.The entire purpose of the group is to help new investors get their first deal and help new again investors get their next deal.
This is a "dinner" group and we kindly request that you buy dinner and/or drinks since the Hudson Grille allows us to meet there. There will be lots of learning and lots of networking. Bring your deals and your haves, wants and needs to the meeting for discussion.
As always, Atlanta REIA Member can attend the meeting at no charge and not-yet-members can RSVP Online for $15 or pay $20 at the door.