Learn How to Become a Real Estate Millionaire with Tolla Cherwenka at BIG on February, 19, 2018
Posted on February 13, 2018 by
February 19, 2018 Beginning Investors Group Replay
Mon, Feb 19th @ 6:30 PM – Hudson Grille, Sandy Springs, GA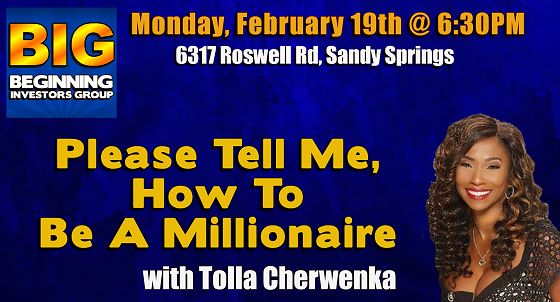 Please Tell Me, How To Become A Real Estate Millionaire!
with Tolla Cherwenka
This is absurd given one simple truth: Becoming a millionaire is simple. Becoming a Millionaire is…simple? Really? It's true, yes, BUT not easy.
So, you want to learn how to become a millionaire? "Wanting" is never enough. Especially when you want to know how to become a millionaire. A lot of people want to become millionaires. To join the millionaire club:
You don't need an MBA.

You don't need to go to Harvard.

You don't need to come from a rich family.

You don't have to be exceptionally smart.

You don't have to know the right people.
What you DO NEED is to join me, Tolla Cherwenka, at the Beginning Investors Group (BIG) on Monday, February 19th at 6:30PM at the Hudson Grille in Sandy Springs located at 6317 Roswell Rd in Sandy Springs. I have one goal if you attend and that is for you to become a millionaire!
I don't talk about my net worth very often, but I crossed the $1,000,000 net worth level when I turned 25 years old. At this event, I will discuss…
The 3 Pillars of Wealth
The Cherwenka's "secret sauce" to how to find distressed house deals (bird dog and wholesalers)
How to make money with no money
How to successfully fix and flip
Wealth strategies
How to speed up the wealth timeline
Answers to your questions and much more!
Join us on Monday, February 19th at 6:30PM at Hudson Grille in Sandy Springs. You may not walk out a millionaire, but you will have the know-how to become one! RSVP Now & Join Us at BIG!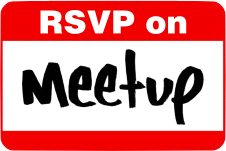 The Beginning Investors Group (BIG) is an educational and networking group for new investors who are just getting started in real estate investing as well as "new again" real estate investors who've taken a few years off and are looking to get back in the game.
BIG is hosted by Dustin Griffin who will be bringing in local and national real estate experts to teach new investors how to survive and thrive in our ever changing economy and real estate market.The entire purpose of the group is to help new investors get their first deal and help new again investors get their next deal.
This is a "dinner" group and we kindly request that you buy dinner and/or drinks since the Hudson Grille allows us to meet there. There will be lots of learning and lots of networking. Bring your deals and your haves, wants and needs to the meeting for discussion.
As always, Atlanta REIA Member can attend the meeting at no charge and not-yet-members can RSVP Online for $15 or pay $20 at the door.