Beginner's Guide to Buy & Hold Investment Properties with the Littleton's at BIG on July 17, 2017
Posted on July 12, 2017 by
Mon, July 17th @ 6:30 PM – Hudson Grille, Sandy Springs, GA
Generate Massive PASSIVE Income with Rental Properties
with Chris & Donna Littleton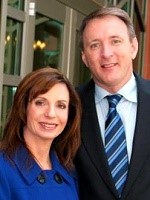 Join us at the Beginning Investors Group on Monday, July 17th at 6:30PM at the Hudson Grille located at 6317 Roswell Rd in Sandy Springs, GA, with Chris and Donna Littleton, who will show you how they built a rental portfolio that pays for their daughters college and will be a solid source of income in their retirement years. Just as important as learning how to do it right, is knowing how NOT to do it. Chris & Donna will share their setbacks as well as their triumphs.
When it comes to making money as a real estate investor, you must understand real estate trends and have multiple strategies – including a plan to generate income you receive without having to show up!
Chris & Donna will share with you:
How they got their first rental with extremely limited resources.
The "Too good to be true" deal that almost broke them.
Proven Methods the Littleton's use to acquire Rental Properties.
Essentials – You don't need to be an expert, just know what you don't know!
Why NOW is the Time to Own Rental Properties – Trends in the Market.
And much much more!
Don't miss out on this great opportunity to get started on the path to PASSIVE INCOME!
The Beginning Investors Group (BIG) is an educational and networking group for new investors who are just getting started in real estate investing as well as "new again" real estate investors who've taken a few years off and are looking to get back in the game.
BIG is hosted by Dustin Griffin who will be bringing in local and national real estate experts to teach new investors how to survive and thrive in our ever changing economy and real estate market.The entire purpose of the group is to help new investors get their first deal and help new again investors get their next deal.
This is a "dinner" group and we kindly request that you buy dinner and/or drinks since the Hudson Grille allows us to meet there. There will be lots of learning and lots of networking. Bring your deals and your haves, wants and needs to the meeting for discussion.
As always, Atlanta REIA Member can attend the meeting at no charge and not-yet-members can RSVP Online for $15 or pay $20 at the door.



Atlanta REIA Members Please RSVP on Meetup.com