Learn to Use Social Media to Explode Your Business at the BIGO on Sept 28, 2016
Posted on September 15, 2016 by
Wed, September 28th @ 7PM ET on GoToWebinar.com
Using Social Media to Explode Your Business!
A Live Webinar with Mark & Anne Lackey on Sept 28th @ 7PM on GoToWebinar.com
No Charge to Attend Online for Members or Guests!
Register @ bigonline.atlantareia.com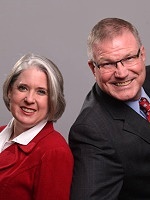 Mark & Anne Lackey will be joining us at BIG Online on Wednesday, September 28th at 7PM ET on GoToWebinar.com to discuss how to use social media to generate leads and explode your business!
Are you looking to buy a house to invest in? How about finding a tenant or a buyer for your recently rehabbed property? Need to build your support network quickly? Or how about finding more private lenders?
A great way to answer these questions above and more, is through something you already have access to, and for the most part, they are free, is Social Media. You know, Facebook, LinkedIn, Twitter, Instagram, etc. You may not know how to utilize these platforms to your fullest advantage. You may be lacking a plan or may have not even thought about the power of these networks to further your business.
Join us on Wednesday, September 28th and Real Estate experts Mark & Anne Lackey will show and tell you how you can take advantage of this growing phenomenon. Now and in the near future, many investors will be adding social media networks and skills to their arsenal. Register NOW and be ahead of the curve!
You will learn:
How to Create and Implement A Social Media Strategy To Increase Leads
What Social Media Platform Works Best For Your Need
How To Easily Create Engaging Content
How To Build A Step by Step Execution Plan To Get Started NOW
And Much, Much More…
Mark and Anne Lackey are well known around Atlanta and across the nation as Real Estate Investors, Authors, Speakers and Educators as well as Realtors. Whether they are helping other investors purchase turnkey investment properties, flipping homes, or helping traditional buyers and sellers, Mark and Anne's work, play and life are all about Real Estate.
New Investors, DO NOT MISS THIS EVENT! Register now and join us on Wednesday, September 28th at 7:00 PM ET.
No Charge to Attend ONLINE for Members or Guests!

About The Beginning Investors Group Online (BIGO)

The Beginning Investors Group Online ( The "BIG O" or BIGO) is an new ONLINE educational group for new investors who are just getting started in real estate investing as well as "new again" real estate investors who've taken a few years off and are looking to get back in the game.
We will be bringing in local and national real estate experts to teach new investors how to survive and thrive in our ever changing economy and real estate market. The entire purpose of this group is to help new investors get their first deal and help new again investors get their next deal.
The Beginning Investors Group Online meets on the 4th Wednesday of each month from 7:00 PM ET to 9:00 PM on GoToWebinar. The main presentation will start at 7:00 PM ET and go to approximately 8:30 to 9:00 PM.
Register for BIG Online Now via GoToWebinar.com