Learn To Do Your Due Diligence at BIG Online on June 22, 2016
Posted on June 15, 2016 by
Wed, June 22nd @ 7PM ET on GoToWebinar.com
June 22nd, 2016 at 7PM ET on GoToWebinar
Learn To Do Your Due Diligence on Your Deals
A Live Webinar with Russ Hiner
Register @ bigonline.atlantareia.com
No Charge to Attend Online for Members or Guests!
New investors often have lots of questions when it comes to evaluating a property and doing their due diligence. Questions like…How do I know if a property is a good deal or not? Should I do my due diligence before or after I get a property under contract? How do I determine the property's value before and after repairs are made? How do I determine how much repairs will cost? How do I check title? How much valuable information can I pull from public records?
If you would like to get the answers to these questions and more, this is definitely an online meeting you don't want to miss!!
You Will Learn:
What your due diligence priorities should be
Where to do your due diligence
How to determine a due diligence plan
Buying houses with tenants in them, buying vacant houses, multi family
What to do when your plan doesn't work!
And much, much more…
Learn what "buyer beware" really means, register now and join us on Wednesday, June 22nd at 7:00 PM ET.
No Charge to Attend ONLINE for Members or Guests!

If you are really serious about upping your investing game, You should NOT MISS this webinar! 
About The Beginning Investors Group Online (BIGO)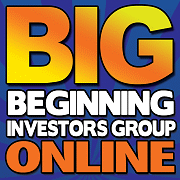 The Beginning Investors Group Online ( The "BIG O" or BIGO) is an new ONLINE educational group for new investors who are just getting started in real estate investing as well as "new again" real estate investors who've taken a few years off and are looking to get back in the game.
We will be bringing in local and national real estate experts to teach new investors how to survive and thrive in our ever changing economy and real estate market. The entire purpose of this group is to help new investors get their first deal and help new again investors get their next deal.
The Beginning Investors Group Online meets on the 4th Wednesday of each month from 7:00 PM ET to 9:00 PM on GoToWebinar. The main presentation will start at 7:00 PM ET and go to approximately 8:30 to 9:00 PM.
Register for BIG Online Now via GoToWebinar.com