Attend First SINRG Networking Event on Rooftop of Cincos
Posted on October 12, 2020 by
Thursday, October 15th
from 6:30PM-9PM on Cinco's Rooftop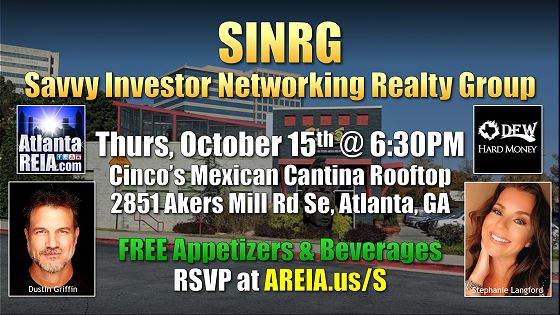 A Brand New, LIVE, In-Person Networking Event
SINRG!
Savvy Investor Networking Realty Group
RSVP on Facebook at attend SINRG at NO CHARGE!
*Complimentary Appetizers & Beverages Provided!
Savvy Investor Networking Realty Group aka "SINRG" (pronounced "Synergy") is a Brand New, LIVE, In-Person, High Energy, Synergetic Networking group for real estate investors, agents, lenders, landlords, wholesalers, contractors, vendors and other real estate industry professionals who want to get together, mingle, have fun and make deals happen!
SINRG meets for the very first time on Thursday, October 15th at 6:30PM (and every 3rd Thursday) on the rooftop of Cinco's Mexican Cantina located at 2851 Akers Mill Rd SE, Atlanta, GA.


SINRG is being sponsored by Atlanta REIA & DFW Hard Money and hosted by Dustin Griffin & Stephanie Langford.
There will be Complimentary Beverages & Appetizers provided while supplies last on a first come first serve basis. There will also be a cash bar and a full menu of food and beverages that can be purchased at your own expense.
Anyone who is actively involved in real estate in the Atlanta Metro Area is invited to ATTEND SINRG AT NO CHARGE! Just RSVP Now on Facebook!
SINRG is DIFFERENT from our other meetings you may be used to… there is no training, no presentations, no pitches and no agenda. SINRG is just REAL real estate people getting together to make REAL real estate connections over cocktails, sunsets and appetizers!
We hope you will RSVP on Facebook, bring your business cards and come join us to enjoy a drink, a bite to eat and night of networking with other like minded real estate pros! Please RSVP Now and Join Us!

*Please Note: Complimentary appetizers and beverages will be provided while supplies last. First come first serve.

SINRG is being sponsored by Atlanta REIA & DFW Hard Money. A few vendors in attendance will be:
Ameris Bancorp
PMI Georgia
DesignerDesign88 Home Staging LLC
Diamond Edge Properties
Property Protege Group
The Gurvey Law Group, PC
Legal Shield
Flipology
If you'd like a high top Vendor Table at SINRG, contact Chrissy at 330-607-6839 for details.