Wholesalers Roundup at Wild West on Sept 26, 2016
Posted on September 15, 2016 by
Mon, September 26th @ 6:30PM in Marietta
No Charge for Members. Guests Pay $10 at the Door.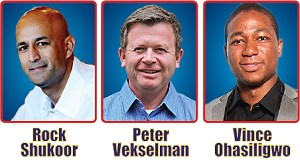 Do you want to get started in Real Estate Investing? Wholesaling is a great way to get started since it's a win-win-win deal for all those involved. You find an unwanted property, put it under contract to buy from the seller, then sell it immediately to a cash buyer. The seller gets rid of an unwanted property that needs repairs, and the buyer gets a property that they can fix and flip or rent out. The money you make in the middle between your buy price and your sales price is a nice paycheck for you!
Wholesaling is a great way to generate quick cash while learning today's highly competitive real estate market, making contacts in the business, and building your cash buyers list. You can get started without using your credit, you don't need a lot of cash, and you won't take big risks when you do it right. Build a good name for yourself as a wholesaler, and you'll have no shortage of cash buyers eagerly waiting to buy your good deals!
Join us this month at the Wild West Real Estate Event as we excitedly bring you a powerful panel of very mature, knowledgeable, seasoned investors who are ACTIVELY wholesaling single family houses in the Atlanta market, right here, right NOW! The Panel will be composed of Rock Shukoor, Peter Vekselman and Vince Ohasiligwo and is being hosted by Leslie Mathis.
If quick cash with little risk sounds great to you, then you definitely want to attend the Wild West Meeting this month!
What you will learn:
Where to find wholesale deals
What formulas to use to tell if a house is a deal or not
Where to find cash buyers
How the closing attorney you use can make or break your deal
And Much, Much More…
We're taking questions ahead of the event, so email them to Leslie at LeslieMathisMentor@gmail.com from your cell phone right now!


Atlanta REIA Members Please RSVP on Meetup.com
Atlanta REIA Members are No Charge and guests pay $10 at the door.
6:30PM: Networking, Food Ordering & introductions
7:00PM: Welcome, Announcements & Upcoming Events
7:25PM: Haves & Wants
7:45PM: Wholesaler Panel Discussion with Rock Shukoor, Peter Vekselman, Vince Ohasiligwo & Leslie Mathis
9:00PM: Drawings for Prizes & Giveaways
9:05PM: Late Nite Networking
*Please Note: West Meeting agenda is subject to change.