Learn What You BETTER Know About Short-Term Rentals at Atlanta REIA West
Posted on June 19, 2019 by
Mon, June 24th @ 6:00PM in Marietta, GA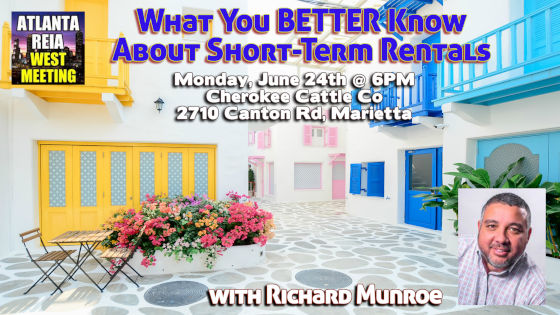 What You BETTER Know About Short-Term Rentals
Monday, June 24th @ 6:00PM
No Charge for Atlanta REIA Members, Guests $10 at the Door.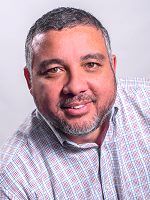 It's been getting a lot of hype lately, causing a fever with real estate investors. Is it all it's cracked up to be? Governments and competitors are looking to control or crush the short term rentals. There are a lot of factors to consider if you want properties for short term rentals. Probably a lot of factors you have never considered.
If you want to know more, please join us at Atlanta REIA West, Monday, June 24th @ 6pm. We have as our guest, Richard Munroe, managing member of Diamond Edge Properties, an Atlanta based real estate investment firm that specializes in the acquisition, management and hosting of short-term rentals. Mr. Munroe is also involved with state and federal legislative initiatives, and is an active member of Short-Term Rental Owners Association of Georgia, Atlanta Real Estate Investors Association, and serves as Board Advisor for Lend Street Financial, Inc, a peer to peer lending platform.
Richard will be enlightening you on matters of short-term rentals and what to watch out for. He will also answer questions you may have. So, bring a notepad, bring a friend, and get to this event since it could dramatically affect your monthly cash flow and real estate investing business forever!
RSVP NOW & DON'T MISS THIS EVENT!
If you Have Short Term Rentals such as an AirBnB or thinking about it, you WANT to be at this event for this special presentation at the Atlanta REIA West Real Estate Event at 6:00pm on Monday, June 24th at The Cherokee Cattle Company at 2710 Canton Rd in Marietta.
Come spend the first hour networking with like-minded investors and real estate related businesses and services while enjoying a mouth-watering meal from Cherokee Cattle Company. Bring your Flyers, your deals, haves, wants and needs to this event.
RSVP NOW & DON'T MISS IT!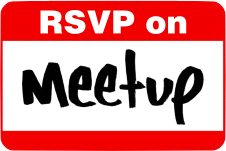 Atlanta REIA Members can attend for no charge and Not-Yet Members for $10.00. Show up at 6:00 PM to eat and network before the meeting officially starts at 7:00 PM. Buying your own meal is optional but highly recommended and greatly appreciated since the Cherokee Cattle Company allows us to use their event room.