How to Market for Motivated Seller Leads with Frank Iglesias at Atlanta REIA West
Posted on September 21, 2019 by
Mon, Sept 23rd @ 6PM in Marietta, GA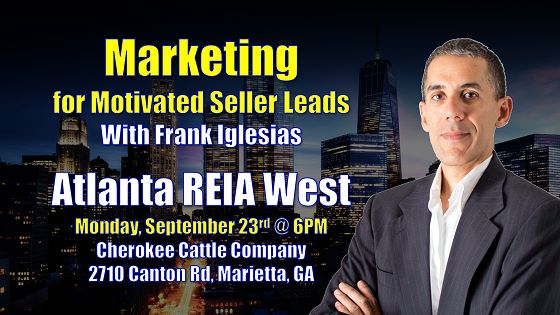 Marketing for Motivated Sellers
Monday, Sept 23rd @ 6:00PM
No Charge for Atlanta REIA Members, Guests $10 at the Door.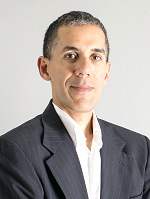 If you are looking for more ways to generate MOTIVATED SELLER LEADS, be sure to join us along with our special guest speaker, Frank Iglesias, at the Atlanta REIA West Group at 6:00pm on Monday, September 23rd at The Cherokee Cattle Company located at 2710 Canton Rd in Marietta.
You might have heard the rumor that "Direct Mail is Dead!" There are a lot of opinions out there, right or wrong, on what is working and what is not when it comes to generating motivated seller leads.
Join us at the Atlanta REIA West Meeting if you wanna know "What Marketing is Working NOW!" according to our very own Frank Iglesias who is a local real estate expert, wholesaler, rehabber and builder.
Frank will discuss…
Why People Love to Talk to Strangers
People value the one-on-one vs a piece of paper. How friendly interactions can increase your deal count.

Don't Be a Social Media Stalker – How to Interact Effectively
Do you catch yourself watching people's stories and thinking to yourself that you like their posts but don't like or comment? This hinders the start of many great business relationships.

Networking – Pay Attention! There is Power Right Under Your Nose
How networking with Rockstars can make your profits soar.

Answers to your questions and more!
RSVP NOW & DON'T MISS IT!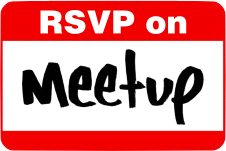 Atlanta REIA Members can attend for no charge and Not-Yet Members for $10.00. Show up at 6:00 PM to eat and network before the meeting officially starts at 7:00 PM. Buying your own meal is optional but highly recommended and greatly appreciated since the Cherokee Cattle Company allows us to use their event room.