How To Find The RIGHT Real Estate Attorney at Atlanta REIA West
Posted on February 25, 2019 by
Mon, February 25th @ 6:00PM in Marietta, GA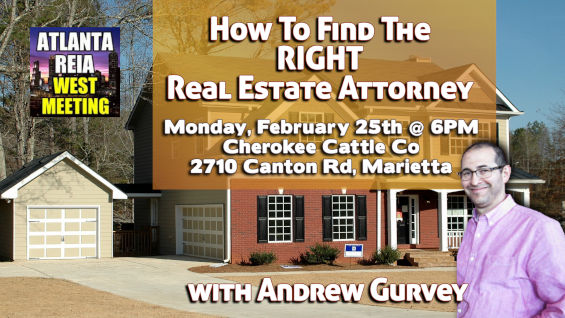 How To Find The RIGHT Real Estate Attorney
with Andrew Gurvey
Monday, February 25th @ 6:00PM
No Charge for Atlanta REIA Members, Guests $15 at the Door.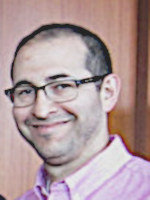 When it comes to buying and selling real estate, there are certain situations where it helps to have a qualified legal professional on your side. If you're looking to get into real estate investing, attempting to purchase a short sale or foreclosure, or having unexpected complications with a simple transaction, it may be time to hire a real estate attorney.
What do you need to look for and expect when adding a real estate attorney to your team?
These questions and more will be revealed at February 25th's Atlanta REIA West with real estate attorney, Andrew Gurvey.
Join us for this special presentation at the Atlanta REIA West Real Estate Event at 6:00pm on Monday, February 25th at The Cherokee Cattle Company at 2710 Canton Rd in Marietta. Andrew will present a revealing presentation that will send you on the correct path when it comes to hiring the right real estate attorney for yourself and you deals.
Come spend the first hour networking with like-minded investors and real estate related businesses and services while enjoying a meal from Cherokee Cattle Company.
So come join us on Monday, February 25th at 6:00PM at the The Cherokee Cattle Company at 2710 Canton Rd in Marietta. There will be lots of learning and lots of networking. Bring your Flyers, your deals, haves, wants and needs to the event.
Mark your calendar because this is happening on Monday, February 25th at Atlanta REIA West Monthly Event. RSVP NOW & DON'T MISS IT!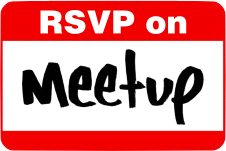 Atlanta REIA Members can attend for no charge and Not-Yet Members for $15.00. Show up at 6:00 PM to eat and network before the meeting officially starts at 7:00 PM. Buying your own meal is optional but highly recommended and greatly appreciated since the Cherokee Cattle Company allows us to use their event room.