7 Ways To Find 7 Deals In 7 Days at Wild West Group on April 24, 2017
Posted on April 24, 2017 by
Mon, Apr 24th @ 6:30PM in Marietta, GA
No Charge for Atlanta REIA Members, Guests $10 at the Door.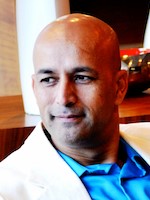 Whether you're a new investor or seasoned pro, finding good deals is essential to the success of your business. The ability to find deals is an absolute must, and marketing is the key to doing so! Rock will show you how at our Wild West Meeting on April 24th!
At this meeting, you will learn:
How to find the owners of vacant properties
Where to find sellers and then buyers for the same deals
Where to get your comps from and what is a good comp
Answers to Your Questions and much more!
Rock has worked as an investor, consultant, mentor and coach in the field of real estate for more than 10 years. He frequently speaks at investment conferences and has been interviewed and consulted by other real estate investors and promoters. He started acquiring properties at age 28, and has become an expert in residential single-family homes. He's a big believer of multiple streams of income and believes that marketing is the life and blood of your business.
RSVP Now and join us for this Wild West Real Estate Meeting at 6:30pm on Monday, April 24th at The Cherokee Cattle Company at 2710 Canton Rd. in Marietta. Come join us for this fun, informative event. See Y'all There!
Atlanta REIA Members can attend for no charge and guests for $10.00. Show up at 6:30 PM to eat and network before the meeting officially starts at 7:00 PM. Buying your own meal is optional but highly recommended and greatly appreciated since the Cherokee Cattle Company allows us to use their meeting room.
There will be lots of learning and lots of networking. Bring
your deals and your haves, wants and needs to the event.


Atlanta REIA Members Please RSVP on Meetup.com