Flipping Gwinnett Meeting on LOW Priced, CASH Flowing Properties
Posted on February 10, 2020 by
Tue, February 18th @ 6:30PM in Stone Mountain, GA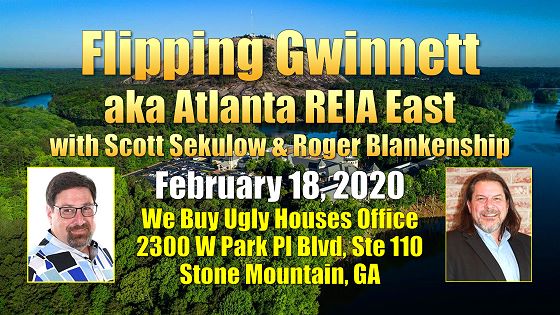 The Atlanta REIA East Monthly Meeting, aka "Flipping Gwinnett" is an Atlanta REIA educational and networking subgroup lead by Scott "The Flipping Rabbi" Sekulow and is held on the 3rd Tuesday of each month at 6:30 PM at Scott's We Buy Ugly Houses Office located at 2300 W Park Pl. Blvd, Suite 110 in Stone Mountain, GA.

Imagine purchasing a house for $10,000, do no repairs, sell for $1000 down and $500/mo for 7 years. What would your return on investment be? $43,000 total received, $33,000 in income and interest. 330% / years = $47%.
How does this work? Join Scott Sekulow & Roger Blankenship at Flipping Gwinnett and they will tell you about all about this new technique they are using to make 45% or more per property.
Scott says "It's always been tough to find contractors. And in the past few years, it's getting increasingly difficult to find good deals to flip. They all seem to involved huge repair budgets, major capital commitments, and risk. What if you could place relatively small amounts of money into cash-flowing properties that could make a 45% or more return?
I've joined an exclusive network that has been the Number One buyer at auction.com for six years straight and buying REOs for 14 years. Our network has bought more than 15,000 houses from multiple auction and REO sites during that time. We have access that the average auction buyer won't get. We are consistently finding livable houses for around $10,000 with the kinds of returns that are hard to beat anywhere."
Join Scott & Roger at the meeting and they will discuss how to…
Get access to select properties that fit this criteria
We provide resources to help you advertise and sell the house
We provide the paperwork for your buyers
When you buy from us we are standing by to help you and answer your questions
No property management
No major repairs
PLEASE NOTE: Atlanta REIA Members can attend at no charge with a valid membership card. Non-Members pay $10 at the door.