Are You Ready for the Next Wave of Short Sales?
Posted on May 17, 2020 by
Tue, May 19th @ 7PM Online via Zoom Webinar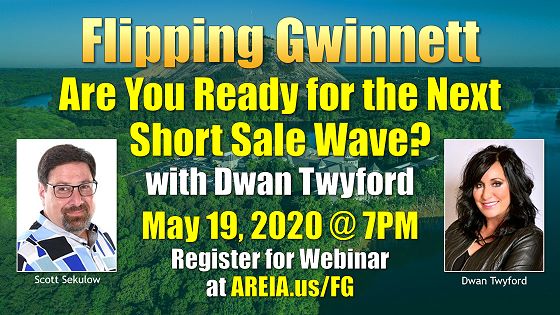 The Atlanta REIA East Monthly Meeting, aka "Flipping Gwinnett" is an Atlanta REIA educational and networking subgroup lead by Scott "The Flipping Rabbi" Sekulow and is currently being held Online via Zoom Webinar on the 3rd Tuesday of each month at 7PM Online due to the pandemic.

This month's special guest will be Real Estate & Short Sale Expert, Dwan Twyford, who will be talking about the next pending wave of short sales that are likely to hit the market in upcoming month's due to COVID-19.
Will you be ready? Will you be able to help people who are facing foreclosure and may need your help to do a short sale? Do you know how to do a short sale? Do you know how to buy a short sale and get the best price?
Join us on the webinar to discuss…
Dwan's expectations of the next wave of short sales to hit the market.
How to prepare for the next wave of short sales.
The three step process to use when negotiating a short sale with banks.
Why the banks will be much more willing to do short sales after COVID-19.
Ask Dwan all your short sale, pre-foreclosure and foreclosure related questions.
PLEASE NOTE: This month both REIA Members & Guests can attend at no charge. Register for the Webinar Now!