Atlanta REIA BIG Christmas Party on December 17, 2018
Posted on December 9, 2018 by
Mon, December 17th at 6:30 PM @ Hudson Grille, Sandy Springs
Atlanta REIA All New BIG Christmas Party!
Join us for DJ, Christmas Karaoke, Music, Magic Tricks, Door Prizes, Food, Fun with Your Favorite Investors!
Atlanta REIA wants to wish you and yours a very Merry Christmas and Happy Holidays!
Please join us on Monday, December 17th at 6:30PM for our annual Atlanta REIA BIG Meeting & Christmas Party at the Hudson Grille located at 6317 Roswell Rd NE in Sandy Springs, GA.
Join us us for Christmas Tunes with DJ "Heavy C", Christmas Karaoke with Maria Rosenswike, Magic Tricks with John Corbin aka "The Amazing Nibroc", a special Mystery Presentation with Tan "Down Under" Michell, Door Prizes and 50/50 Raffle with Chrissy Griffin, Food & Drinks* from the Hudson Grill and Holiday Networking with your Favorite Real Estate Investors!
The Christmas Party is FREE for Atlanta REIA Members who RSVP before December 17th, otherwise it will be $20 at the door. It is critical that you RSVP before December 17th so we know how much food we need to order and have the restaurant prepare. So please RSVP before 12/17!
Atlanta REIA Members Who RSVP Online Before December 17th Can Attend for FREE or Pay $20 at the Door or Online after December 17th.
Non-Members and Guests Can RSVP Online for $30 or Pay $40 at the Door.
Atlanta REIA Members wish to bring a guest who is a NON-Member can RSVP Their Guest Online for $30 or pay $40 at the door.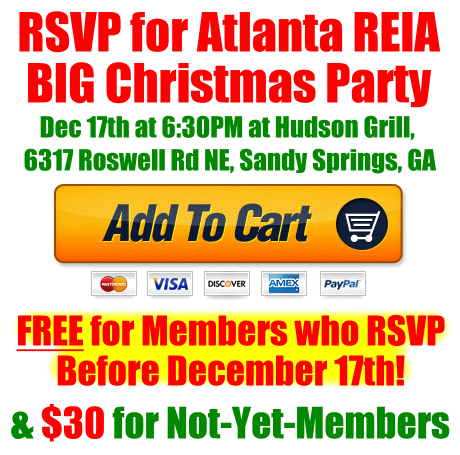 We would like to thank our Atlanta REIA Sponsors for helping make this all possible for you! The Christmas Party is being sponsored by…
Gold Sponsor Atlanta Pink Houses, LLC
Gold Sponsor GoldMineProperties.net
Silver Sponsor Auction.com
*PLEASE NOTE: Appetizers and non-alcoholic Beverages will be provided for those who register and show up on time. Attendees can also order off the Hudson Grille menu and/or purchase adult beverages at the cash bar at their own expense if they wish.