3 Strategies You Can Use Today To Beat The IRS with Roger Herring on August 8, 2018
Posted on August 6, 2018 by
Wed, August 8th @ 6PM in College Park, GA
NO CHARGE for everyone who attends
this month's event ONLY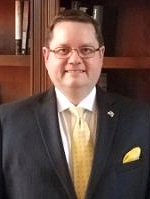 We are pleased to announce that Roger Herring will be our special guest speaker this month at our Atlanta REIA South monthly meeting in College Park.
The IRS. Just hearing those 3 letters can send a chill up your spine, or even make one's blood boil. Who can blame when that entity seemingly enjoys sticking its hands into your pockets to grab a chunk of your hard earned money.
In 2018, new tax laws were enacted to the benefit of many, and to the chagrin of a few. However, for you to take advantages of the benefits, you MUST know what they are.
The New tax laws have impacted entity selection, deprecation strategies for landlords, 1031 strategies, the new Qualified Business Income deduction, Power partnerships and how they work, and many other sweeping changes.
Roger Herring, Founder and CEO of Investors Accounting, one of the few firms totally dedicated to serving the unique needs of real estate investors when it comes to accounting and taxes.
Accounting for Real Estate Investors is something that is not taught in school. It is a unique field that requires specialized understanding in specific areas of the tax code that most practitioners do not even know exists. Roger works with investors year round, not just at tax time.
At this event you will learn 3 Strategies to send the IRS in the other direction:
Use Depriciation Strategy to Save Now and Later
Hire Your Children
The Power Partnership
And Ask an Expert Tax Q & A
RSVP Now and join us this Wednesday at the Atlanta REIA South/Multi-Family Real Estate Meeting at 6PM on Wed, August 8th at Club E at 3707 Main St. in College Park.
Roger is a 1991 graduate of The Citadel, The Military College of South Carolina, he served as an officer in the US Army Reserves for 8 years. Roger spent eleven years as a corporate accountant in positions ranging from associate management accountant to Chief Financial Officer. In late 1999 he founded Herring Business Services (HBS), a part-time venture specializing in the preparation of long-term business plans. In early 2002 he took the business full time and reorganized HBS into what is now Investor's Accounting, LLC
There will be lots of learning and lots of networking. Bring
your deals and your haves, wants and needs to the event.
The Atlanta REIA South monthly meeting, led by Reggie Jackson and Gordon Catts, is held on the 2nd Wednesday of each month at 6PM at Club E Atlanta located at 3707 Main Street, College Park, GA.
The Multi Family Investing Focus Group Meeting, led by Carla Gamper and Gordon Catts now meets on the 2nd Wednesday of each month at 6PM at Club E Atlanta located at 3707 Main Street, College Park, GA.