2 Day Foreclosure Tour on September 29th & 30th, 2012
Posted on August 30, 2012 by
2 Day Foreclosure Training & Tour
Saturday, Sept 29th & Sunday, Sept 30th
At the SRN Academy Training Facility, Tyrone GA.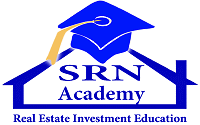 The SRN Academy has openings for New Real Estate Investor Clients!
Are you investing in Real Estate? If not, do you think that it is:
Too Expensive?
Too Risky?
Too Time Consuming?
If you could easily purchase single family rental homes with:
Excellent Returns and Cash Flow
Rehab & Tenant Placement for Your Property
Expert Property Management in Place
All Within a 30 to 60 Day Window
Would you be willing to invest 2 days learning to identify & acquire these properties with one of the most successful Asset Management Firms in Atlanta?
The Agenda:
Friday 4:00pm – 5:00pm Meet & Greet the Team (Optional)
Saturday 8:00am – 10:00am Training
Saturday 10:00am – 11:00am Property Briefing
Saturday 11:00am – 5:30pm Property Tour
Sunday 9:00am – 4:00pm Property Tour & View Property Under Rehab & Rent Ready
(Half & Full Day Individual Appointments Also Available)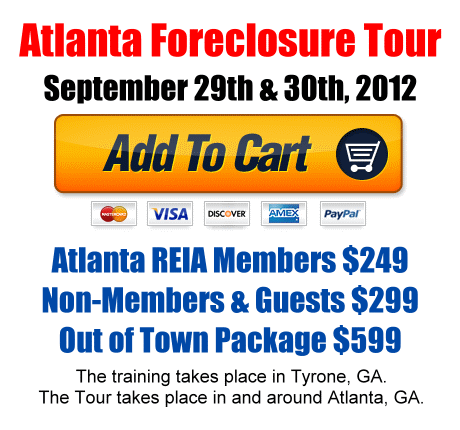 The Tuition:
AtlantaREIA Members Only $249
Non-Members Guest Only $299
Out of Town Guest Package Only $599
(Out of Town Guest Package includes two night stay in Peachtree City Hotel and local ground transportation)
Tour Includes Lunch for Both Saturday & Sunday!
The Location:
The training event takes place at 100 Glendalough Court, Suite D-2 in Tyrone, GA. The tour takes place in and around Atlanta, GA.