Roger Herring
Posted on November 23, 2019 by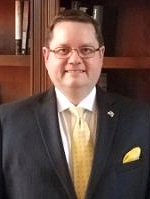 Roger Herring is "The Investor's Accountant".  He is the founder, CEO and Chief Tax Strategist of Investors Accounting LLC.  Since inception in 1999, the company has grown from a part time venture to a full-service accounting and business advisory firm wholly devoted to serving the unique needs of the real estate investor. 
"Let's face reality, you can make millions of dollars every year and still have ZERO net worth.  It is not about how much you make, it's about how much you KEEP!  I focus on helping clients keep their money through focused and effective tax planning and strategy."  ~ Roger T. Herring
Roger is a 1991 graduate of The Citadel, The Military College of South Carolina.  After serving as an officer in the US Army, he spent eleven years as a corporate accountant in positions ranging from staff accountant to chief financial officer. 
Roger lives in Lawrenceville with his wife Shelley where they are both active in their Church and community.