The Profit October 2012 Edition
Posted on September 25, 2012 by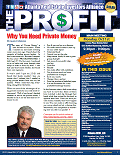 The October 2012 edition of The Profit, the official newsletter of the Atlanta Real Estate Investors Alliance (Atlanta REIA), is now ready for download in high or low resolution format. Read and enjoy a variety of articles on real estate investing and more from Alan Cowgill, Deborah Harris, Bob Massey, Jeff Nix, Don DeRosa, Larry Harbolt, Russ Hiner, Jim Hitt, Robyn Thompson, Erven Kimble, Michael Vazquez, Tony Pearl and Mike Barnes. And don't forget, Atlanta REIA Business Members can advertise in The Profit at deeply discounted rates.

PLEASE NOTE: The Low Res Version is for faster downloading, but the High Res Version (Recommended) is much higher quality and takes only a little bit longer to download.
Your Feedback Wanted: Your feedback on The Profit is very important to us. If you would like to send in your comments on The Profit we would love to hear them and publish them on AtlantaREIA.com and the next edition of The Profit. Please email your comments, feedback and testimonials to theprofitfeedback@atlantareia.com. Thanks!