RSVP for a Vendor Table at our 3rd Annual Atlanta REIA Vendor Trade Show
Posted on June 21, 2013 by
3rd Annual Atlanta REIA
Vendor Trade Show & 3 Year Anniversary Celebration on July 1st
Dear Atlanta REIA Business Members:
On July 1st, Atlanta REIA will be celebrating our 3 Year Anniversary and hosting our 3rd Annual Vendor Trade Show at the Crowne Plaza Ravinia. This event will be similar to the mini trade show we do each month, it will just be BIGGER and we will have a lot more time dedicated to networking with vendors. More details are coming soon.
We are offering vendor tables this week only for $49 for Gold Business Members, $69 for Silver Business Members and $99 for Guests. In addition to reserving a vendor table, this fee will also help us provide cover the food at our special Late Nite Networking Event after the meeting.
Next week these prices will increase. Please reserve a table ASAP to not only get the best rate, but to get listed in all of our forthcoming emails for the event.
Please RSVP Now so we know you are coming and can start marketing your business to our members ASAP!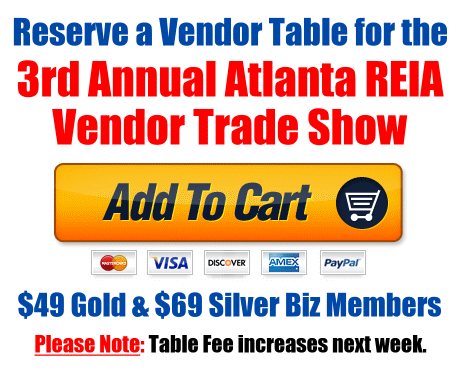 Tentative Agenda for the Trade Show
4:00 pm: Vendor & Event Setup
5:00 pm: Doors Open, Trade Show Begins, Networking
7:00 pm: Vendor Giveaways & Round Tables with Local Real Estate Experts
9:30 pm: Late Nite Networking with Participating Vendors & Attendees
As always, your ongoing support and participation in Atlanta REIA is GREATLY APPRECIATED! I hope to see you soon!